Earlier this week, we looked at leaked 3DMark benchmarks for AMD's upcoming new RDNA 3 GPU offerings - the Radeon RX 7700 and Radeon RX 7800 - that are on track to launch in September. Of course, all of this is rumor and unofficial, and AMD has not officially announced its plans for expanding the Radeon RX 7000 series with new models.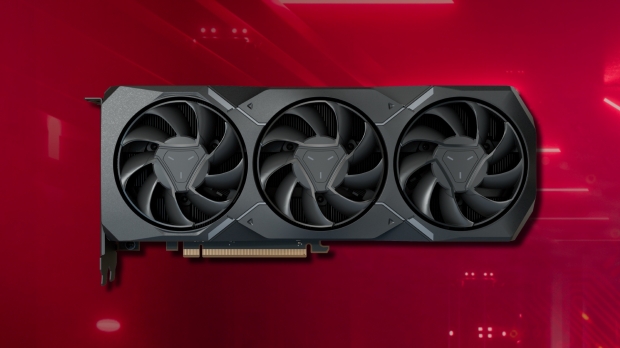 Currently, we have the mainstream Radeon RX 7600 in the sub-USD 300 category, with the flagship Radeon RX 7900 XT and XTX sitting in the high-end USD 899 and USD 999 price range. Everything in between is still being serviced by existing RDNA 2 products like the Radeon RX 6700 and Radeon RX 6800 - which are currently selling well thanks to sizable discounts.
Today we've got preliminary leaked pricing for the new Radeon RX 7700 and Radeon RX 7800 from Twitter user @All_The_Watts, who shared the 3DMark synthetic benchmark Time Spy results for these GPUs. And with the Radeon RX 7700 potentially launching with an MSRP of USD 449 and the Radeon RX 7800 launching with a price point of USD 549 - how does this pricing stack up when taking the benchmarks and other GPUs from AMD and NVIDIA into account?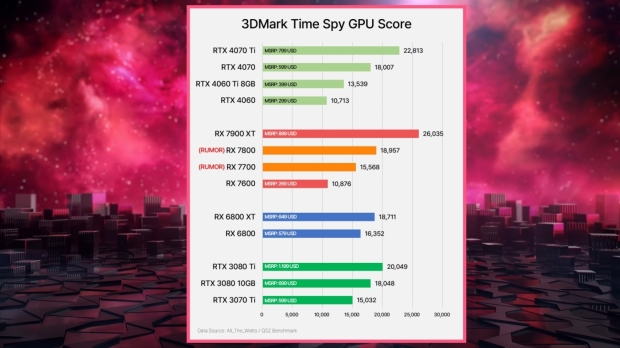 Although it's a single benchmark and not indicative of the whole picture, the Radeon RX 7700 delivers a 3DMark Time Spy score that is 15% higher than the GeForce RTX 4060 Ti - so its price point of USD 449 (higher than the RTX 4060 Ti's USD 399) does make sense. At least when you factor in that, it will probably feature 12GB of VRAM compared to the 8GB on NVIDIA's card.
But, this price aligns it with the Radeon RX 6800 that is still available in some locations at the same price - with presumably similar performance. So, it looks identical to what we've seen with the GeForce RTX 40 Series in that these are replacements versus massive improvements. Of course, on the GeForce side, you've got DLSS 3 and Ada Lovelace efficiency that sees the GeForce RTX 4070 deliver RTX 3080-like results using far less energy.
The USD 549 for the Radeon RX 7800 is not that exciting either because the leaked benchmarks point to the card being on par with the Radeon RX 6800 XT, and depending on availability, this is roughly the price for a still-new Radeon RX 6800 XT.
Take this with a massive grain of salt, as a secondary source has yet to verify these figures. But, if the Radeon RX 7800 will go head-to-head with the GeForce RTX 4070 at USD 599, it does make sense for the AMD GPU to come in a little cheaper. However, in a perfect world, the RTX 4070 would be an excellent deal at USD 499 - which would mean it could be a similar situation for a Radeon RX 7800 at USD 449 instead of the USD 549 being reported here.