The 16GB version of NVIDIA's RTX 4060 Ti graphics card is now on shelves, and the pricing of this new variant is pretty much as we feared - verging on the ridiculous, certainly in Europe at launch, and we don't imagine the US market will fare much better when more models emerge.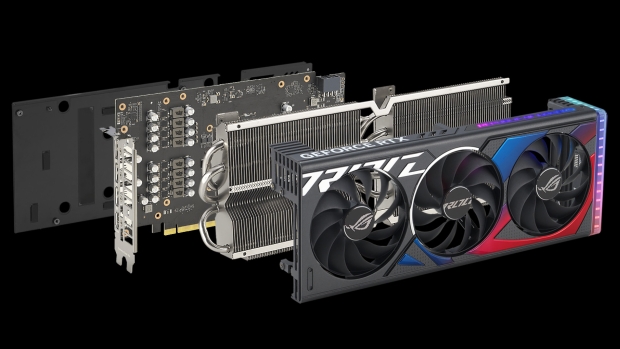 So, to Europe first, where VideoCardz spotted (via ComputerBase) that the initial asking price of the ASUS ROG STRIX RTX 4060 Ti 16GB is €659 at a German retailer (not MindFactory, but Nootebooksbillinger).
The interesting - and, well, rather ludicrous - reality is that you can purchase a baseline RTX 4070 model at the same retailer for less money. The asking price for the cheapest RTX 4070 is 10% less, in fact (well, almost - it's €599).
Turning to the US market, we popped over to Newegg to do a bit of price-checking, finding that a couple of the small number of RTX 4060 Ti 16GB graphics cards available are pitched at the MSRP of $499. Two others, however, are slightly above that, with an MSI card already at $530.
Now, the ASUS ROG STRIX RTX 4060 Ti 16GB isn't yet listed, but the 8GB variant is, and this costs $490. So, considering that, and the presence of a $530 16GB model already, we can guess the ROG STRIX RTX 4060 Ti 16GB spin will push up towards the $600 mark.
Bearing in mind that you can get an entry-level 4070 for $600, the situation may not be as bad as witnessed at this German retailer, but it might not be all that far off.
We feel NVIDIA would be happy to forget this 16GB variant as soon as possible, and that's clear enough in the approach Team Green has taken to the launch of this model. Namely, bringing it out with not even a small announcement - nothing at all - and with no graphics cards sent to reviewers.
The problem with the RTX 4060 Ti 16GB is that while it addresses a big complaint from gamers about the original card - namely that 8GB of VRAM simply isn't enough these days - it does so in a pricey manner, and with other wonkier bits of the spec holding the card back (like the 128-bit memory bus).
Yes, you will get better performance in certain situations over and above the 8GB-toting 4060 Ti, but those scenarios will be limited to specific games and settings. And with the price difference between the RTX 4060 Ti 16GB and entry-level RTX 4070 being so close, it's really a no-brainer to step up a tier of GPU in the Lovelace range, which is clearly going to give much better results than a simple doubling of VRAM.