With the FTC case looking to block Microsoft's planned acquisition of Activision Blizzard wrapping up and a decision expected any day now, which will determine if the deal goes ahead or not, a treasure trove of info related to Xbox, PlayStation, and titles like Call of Duty and Minecraft has emerged.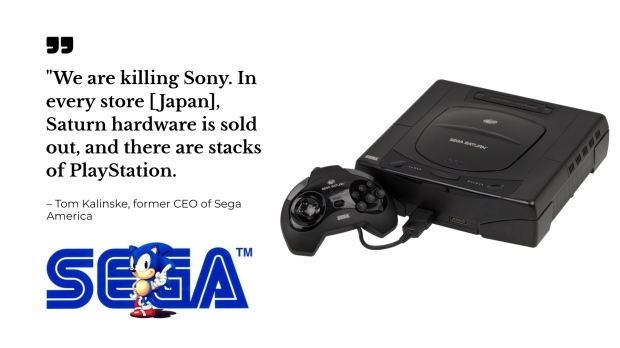 We learned that 200-plus million dollar budgets for exclusive AAA titles like Horizon Forbidden West and The Last of Us Part II for PlayStation consoles rivals big-budget movies. We learned Minecraft makes four times as much money on the Switch as on Xbox. And we learned that Xbox's Phil Spencer decided to make all future Bethesda titles exclusive to PC and Xbox - seemingly starting with Starfield.
But this is all 2023 news related to the current console war between Microsoft, Nintendo, and Sony; what about the mid-to-late 1990s when it was all about Nintendo, Sega, and Sony, and consoles like the Nintendo 64, Sega Saturn, and the fresh-on-the-scene Sony PlayStation. Well, a massive 272-page PDF of classified Sega of America documents from the era has made its way online with some cool revelations (via Sega Retro).
"We are killing Sony," writes Tom Kalinske, former CEO of Sega America, in an email dated March 28, 1996. "In every store [Japan], Saturn hardware is sold out, and there are stacks of PlayStation. The retailers commented they can't compare the true sales rate because Saturn sells out before they can measure accurately."
"I wish I could get all our staff, sales people, retailers, analysts, media, etc., to see and understand what's happening in Japan," Tom Kalinske continues. "They would then understand why we will win here in the U.S. eventually." Of course, we know how that ended up, and Sega of America was caught off guard with the launch of the Sega Saturn due to tensions with HQ in Japan.
The documents reveal that 1996 retail margins on the Sega Saturn were extremely thin, in the region of USD 15 per Saturn sold, so much so that retailers were looking to abandon the console due to low margins. The documents also highlight a wild time for Sega, confirming that hardware like the 32X and Sega CD for the Genesis (or Mega Drive) damaged the brand. Not to mention an admission that "Sony's product (software) looks better than ours."
Tom Kalinske would go on to leave Sega the following year, and Sega would move on to deliver its final dedicated videogame console, the Sega Dreamcast, before pivoting to become a third-party development studio and publisher.
Like the big FTC v Microsoft case, the document is a treasure trove of gold from the mid-1990s, including planning reports, storyboards for advertisements, and more. Check it out.