The latest Windows 11 Insider Preview Build 23481 aims to trim some fat regarding Folder Options in File Explorer. According to Microsoft, "many of these are legacy settings that have been around for ages and are not being regularly used by people on Windows 11." The changes aren't yet official but indicate that these features are part of a future update.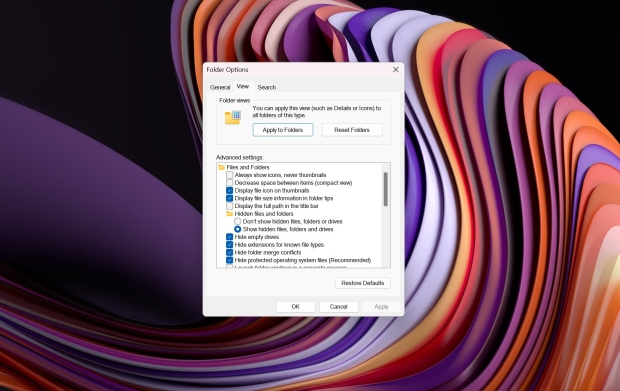 You can check out the list of items being removed below, with Microsoft noting that they aren't disappearing entirely - though they'll only be accessible via modifying registry settings. This means they're gone for most Windows 11 users, even those who might consider themselves advanced users of Microsoft's latest operating system.
One of the removed features is the ability to 'Show drive letters' it has sparked some discussion within the Windows community around these changes dumbing down Windows 11 for no good reason. Streamlining something like File Explorer is a great idea; reducing visual clutter and improving the UI/UX experience is always welcome - though not at the cost of accessing advanced features easily.
Here's the list of what's being trimmed. Microsoft says these options "will no longer appear under Folder Options in File Explorer."
Hide Folder Merge conflict.

Always show icons, never thumbnails.

Display file icon on thumbnails.

Display file type information on Folder tips.

Hide protected OS files.

Show drive letters.

Show popup description for Folder and Desktop items.

Show encrypted or compressed NTFS files in color.

Use sharing wizard.
As for why these options come down to data showing Microsoft that most Windows 11 users aren't using these features, I can't remember when I opened up Folder Options in Windows 11. Still, 'show drive letters' and 'display file icon on thumbnails' seem like features you'd want to have, especially if it's unclear if they'll be turned on by default.