KIOXIA's PM6 and PM7 Series 24G SAS SSDs and its CD6, CD8, and CM6 Series PCIe 4.0 SSDs offer clients and data centers and servers of all sizes a great range to choose from - delivering both reliability and performance to meet all storage needs.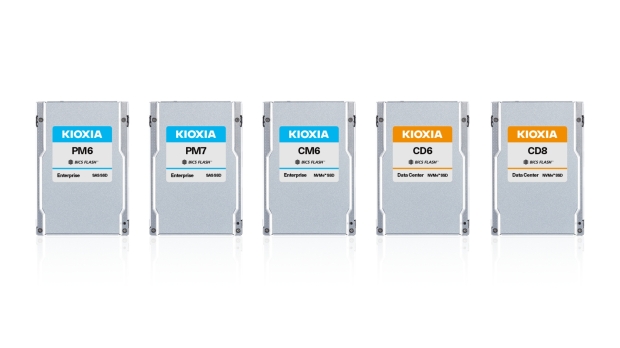 Today we've got word from KIOXIA America that this range of NVMe PCIe SSDs and SAS SSDs have been successfully tested and compatible with Microchip's Smart Storage Adapters. Microchip has fully tested all of the SSDs mentioned in the introduction for deployment in its Adaptec HBA 1200 Series, SmartHBA 2200 Series host bus adapters (HBAs), and SmartRAID 3200 Series RAID adapters.
On the high-end, you've got KIOXIA's PM7 Series 24G SAS SSDs designed for read-intensive applications, including web services, streaming media, and video on demand, featuring KIOXIA's impressive 112-layer BiCS FLASH 3D flash memory. And then there's the CD8 Series NVMe SSD using a PCIe 4.0 (16 GT/s x4) interface, which delivers the consistent performance of up to 1,250K IOPS (random read) and 200K IOPS (random write).
"As a leader in enterprise and data center SSDs, we are committed to driving the industry forward with cutting-edge flash solutions that power the next wave of applications and services," said Steve Weinger, senior director of marketing and product management for KIOXIA America Inc. "The overall success of next-generation data center infrastructures is dependent on ecosystem collaboration and interoperability efforts to ensure that current and future products and technologies work together seamlessly."
"By collaborating with KIOXIA to rigorously test their best-in-class SSDs with Microchip's Smart Storage Platform, customers can rest assured that our combined solution will deliver as promised," adds Samer Haija, associate director of marketing of Microchip's Data Center Solutions business unit.
For a full breakdown of KIOXIA Microchip-compatible SSDs, head here.