Xbox Game Pass across console and PC represents one of the best deals in gaming, with access to over 100 titles to download and install, including the full library of first-party titles from Xbox Game Studios and Bethesda. It also features a cloud gaming component for a number of its game, opening the door to countless devices, from phones to tablets to smart TVs, that can stream Xbox games.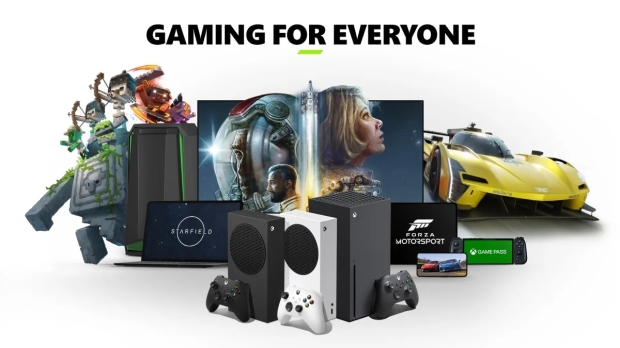 As part of a new report on the future of Xbox, Microsoft's vision for the future, and opening the platform up to more gamers, we've got word that PC Game Pass is coming to NVIDIA GeForce NOW later this year.
Now, you might think that doubling up on cloud gaming is a little redundant. It's worth stating that GeForce NOW is on the cutting edge in terms of visual fidelity while receiving critical acclaim for delivering low-latency performance with its streaming tech. Compared to playing games on an Xbox console blade, you can access up-to GeForce RTX 4080 performance with real-time ray-tracing and other visually intensive settings.
NVIDIA recently added 4K and 120 frames-per-second options compared to Xbox Cloud Gaming which is limited to 1080p 60 frames-per-second. GeForce NOW is all about giving you cloud access on cutting-edge GeForce hardware to the games you already own, so adding PC Game Pass access for 'select titles' is a big win for the service.
Of course, its addition is partly due to the ongoing saga surrounding Microsoft's Activision Blizzard acquisition, which will hopefully be resolved soon. To help appease critics and regulators, Microsoft has been making cloud gaming deals left, right, and center, which is the reason why PC Game Pass on GeForce NOW is happening.
Either way, it's awesome news, and it could even mean that Bethesda's epic RPG Starfield could be playable, via the cloud, on GeForce RTX 4080 hardware with visuals and performance that is far superior to playing the game natively on an Xbox Series X. There's no word yet on exactly what 'select' games will be playable, but with Gears 5, Deathloop, and others already playable via GeForce NOW it's safe to assume all the heavy hitters like Starfield and co will be supported.