When Intel introduced its new line-up of discrete Intel Arc graphics for PC gamers, it also introduced the AI-based Intel Xe Super Sampling, which is similar to NVIDIA's DLSS and AMD's FSR in that it's all about upscaling and boosting performance with minimal impact to visual fidelity.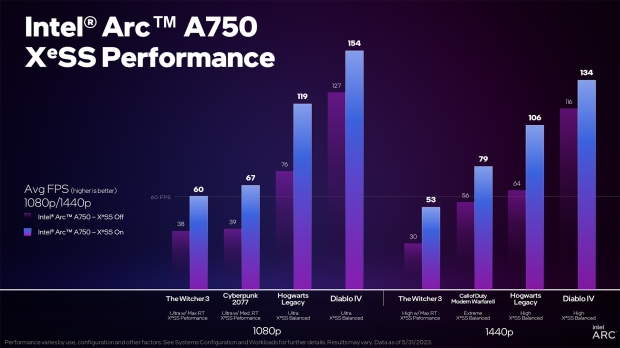 Today comes word that XeSS (which is also compatible with non-Intel GPUs though tests showcase that it works best when leveraging Intel Arc's dedicated AI hardware) is now available in over 50 games.
The good news is that adoption for XeSS covers many popular PC titles, including the recently released Diablo IV from Blizzard and other high-profile releases like Hogwarts Legacy, Call of Duty Modern Warfare II, Returnal, and others.
Intel's XeSS description says it "uses a trained AI model combined with motion vectors and frame history to intelligently upscale frames to full HD, 1440p, or 4K." Motion vectors are one of the key ingredients and why the latest versions of DLSS and FSR can deliver exceptional results.
According to in-depth testing for XeSS on Intel Arc hardware, the consensus is that it trumps AMD's FSR 2 in terms of visual fidelity (specifically at 1080p and 1440p) while trailing NVIDIA's DLSS, which has been around for several years and continues to improve.
Celebrating the milestone, Intel presented a video of The Witcher 3 running on PC with XeSS using the Ultra quality preset with ray-tracing, high-resolution textures, and other effects enabled. This is great because the Intel Arc A750 and A770 graphics cards are affordable entry-level and mid-range options, which makes them prime candidates for tech like XeSS - as seen in the above internal Intel benchmarks.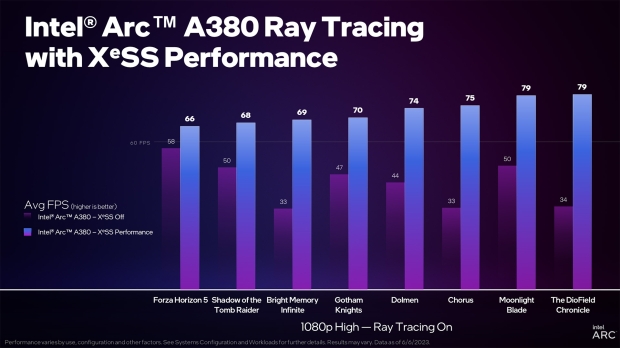 Intel even showcased benchmark results with the budget USD 139 Intel Arc A380 - showcasing that XeSS can be the key to delivering 1080p 60fps gameplay with ray-tracing.
With Intel also prepping to launch new Arc GPUs built on its next-gen Battlemage architecture, no doubt XeSS will continue to expand its reach in the coming months.