U.S. consumers spent more money on video game purchases, subscriptions, and microtransactions than Chinese consumers throughout 2022, market research data from Newzoo indicates.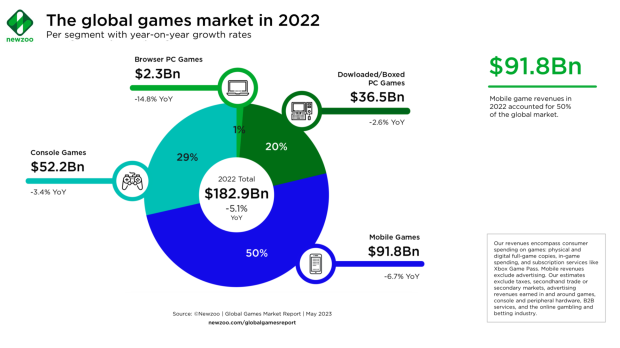 According to a new report from Newzoo, the United States was the leading region for worldwide game spending in 2022. Newzoo estimates that the total global video games market generated $182.9 billion throughout 2022, which is slightly below the firm's previous $184 billion estimate.
The United States actually led regional spending in 2022, beating China by some $2.4 billion. Consumers in the U.S. spent $46.4 billion on games throughout the year, whereas Chinese gamers spent $44 billion. The firm notes that 49% of total global spending came from these two countries. Europe was the second-highest region with $33.3 billion, which further illuminates the European Union's weight as it pertains to its Microsoft-Activision merger decision.
It's worth noting that the estimates do not include hardware sales, mobile game advertising, and peripherals--all of which can deliver considerable yearly earnings. Companies like King make quite a bit from ads, and Sony, Nintendo, and Microsoft make billions every year from hardware sales.
The isolation of these figures show game sales trends for specific regions and platform spending mix. Of the $182.9 billion made in 2022, mobile unsurprisingly took the lead with 50% of total revenues, or about $91.8 billion. Console gaming pulled in $51.8 billion and made up about 28% of total spending, with dedicated/downloaded PC games raking in $38.2 billion. This leaves the shrinking browser PC games market down 16.7% year-over-year to $2.3 billion--a continuing downward trend for the segment.