At Computex 2023, we had the chance to catch up with the team at GIGABYTE and got the opportunity to take a look at some very cool new products, one of them being the new AORUS GeForce RTX 4090 MASTER 24G with the company's new Bionic shark fans.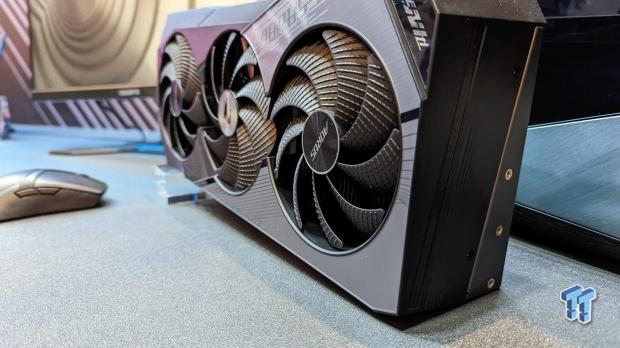 Take a closer look at the blades on this triple-fan high-end GPU, and you'll notice a design that mimics the look of the skin found on sharks. The kind is found in oceans and Steven Spielberg films titled 'Jaws.'
It's a fantastic and somewhat aggressive look, but GIGABYTE quickly noted that the new Bionic Shark fans aren't just about making one of its most powerful GPUs look cool and stand out. By mimicking a shark's "dermal denticles" and its benefits to fluid dynamics, it directly translates to a 30% pressure increase and a reduction in overall noise by around 3dB thanks to the new textured surface.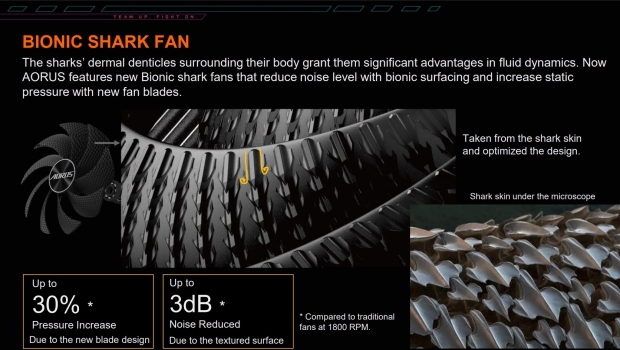 According to GIGABYTE, "the small cyclone generated by the bionic texture can reduce the vibration of air molecules," leading to lower overall noise - which is excellent for a GPU as powerful as the GeForce RTX 4090.
The GPU also makes good use of the company's WINDFORCE cooling, where in addition to three 110mm bionic shark fans with alternate spinning, there are 13 copper heat pipes and a large vapor chamber that directly touches the Ada Lovelace GPU. And an LCD display that is a purely aesthetic touch.
And to add more of an aquatic reference, the large heatsink features an angular fin design to improve heat dissipation. Specs-wise, the card will ship with a dual BIOS, and compared to the reference design, the AORUS GeForce RTX 4090 MASTER 24G will ship with a boost clock speed of 2550 MHz instead of 2520 MHz.