Computex 2023 is about to kick off, and we were lucky enough to explore the showroom floor a day early, which allowed us to catch a sneak peek at the dismantled ASUS ROG Ally.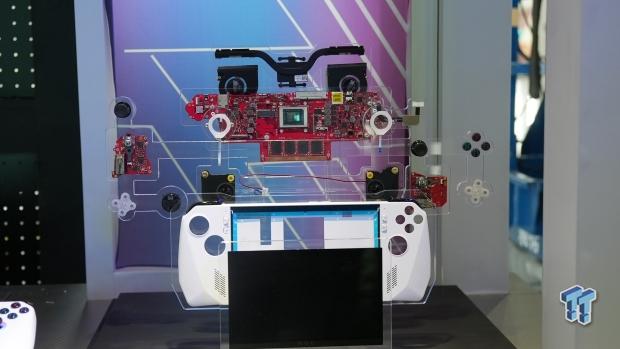 For those who aren't familiar with the ROG Ally, ASUS has entered the handheld gaming market with a powerful device running Windows 11 and boasting what ASUS claims to be the "fastest" AMD APU.
Reports indicate that this "fastest" AMD APU is built on a custom 4nm process with Zen 4 and RDNA 3 architecture. Specifically, ASUS will ship the Ally with the Z1 Extreme, similar to the Ryzen 7 7840U but with certain modifications and specific features.
In addition, ASUS has included 16GB of LPDDR5 memory, along with a 512GB M.2-2230 PCIe Gen4 SSD. Like many other handheld devices, there will be different variants of the Ally. Currently, it is confirmed that there will be Z1 Extreme and Z1 models, each with a 120Hz 1080p display, measuring 280mm x 133mm x 39mm in dimensions.
Notably, the Ally will have a peak brightness of 500 Nits and weigh 608 grams. To further illustrate the power of the Ally, its current specifications mean that it is more than twice as powerful as the Steam Deck, while being smaller and lighter than Valve's handheld.
ASUS has confirmed that the more powerful variant will be priced at $699, while the less powerful variant will be priced at $599. ASUS will launch the Ally on June 13, and it will be exclusively sold at Best Buy.