Rockstar Games' mega-hit Grand Theft Auto franchise has now generated over $8.33 billion since GTA V's launch in 2013, new figures from Take-Two Interactive indicate.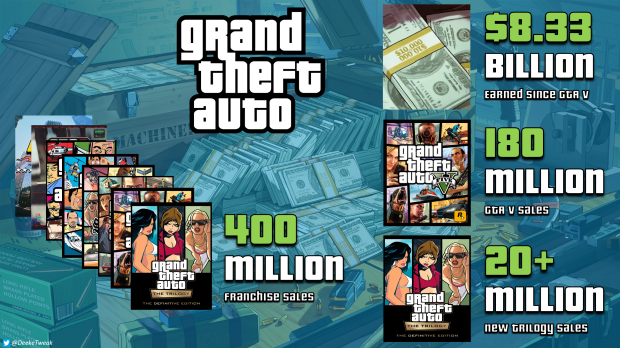 Take-Two just published its 10-K SEC filing that gives a complete picture of its Fiscal Year 2023 results, and in those reports we have updated metrics for Grand Theft Auto franchise revenues. According to the data, GTA products made up 14.6% of the company's total net revenues of $5.349 billion during FY23, which amounts to about $781 million.
The results push total Grand Theft Auto franchise earnings in excess of $8.33 billion from GTA V's launch in Q3 FY14 (September 2013), and includes earnings from multiple console and PC iterations of GTA V, sales of the newer Grand Theft Auto trilogy remaster collection, and revenues made from Grand Theft Auto Online's in-game purchases.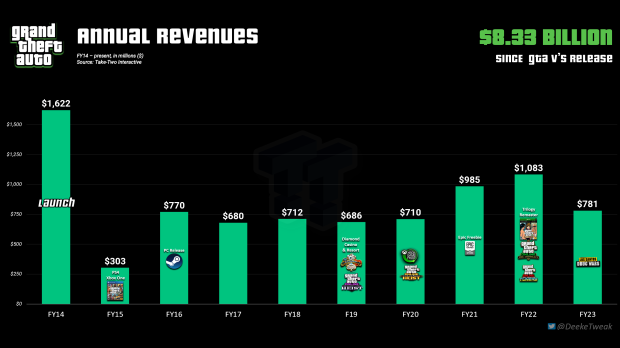 One important distinction with these numbers is that the percentage share is based on net revenues, which includes what is called deferred revenue. The way this works is that Take-Two will often reserve a portion of its yearly/quarterly earnings from in-game purchases to be recognized another year or quarter. This means that it is tough to accurate detail exactly how much something like GTA Online or even Red Dead Online makes in a given period because a portion of these digital earnings are carried over to other periods.
So in essence, it's possible and very like that Grand Theft Auto series earnings are even higher than the results listed here.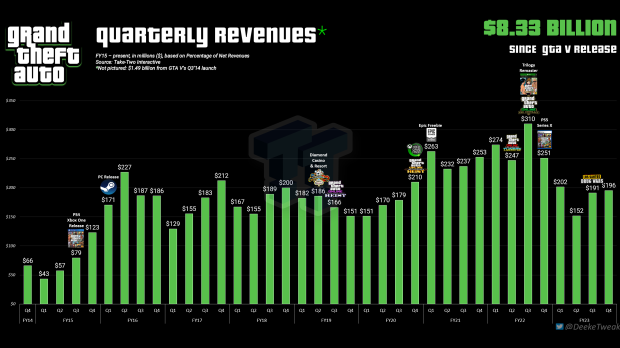 It should be noted that FY23 is the lowest annual contribution of the Grand Theft Auto franchise due to Take-Two's merger with Zynga during the year. This makes sense, as Take-Two is now making more revenue thanks to Zynga's significant contributions (more on that later), therefore GTA's prorportional share will be lower.
Rockstar is currently working on Grand Theft Auto 6, which is believed to release in FY25 (April 2024 - March 2025) to coincide with a massive $2.46 billion spike in forecasted net bookings for the period.