Okay, the first thing that has to be said... Nvidia knows our contact details and if they want to start sending us products under NDA instead of these mystery companies, we are happy to cooperate, just as AMD has recently agreed to do.
We want to hear negative comments about our work as much as anyone else does about their work. But the bottom line is, when you have been in this game as long as us, you get use to it and it is like water off a ducks back. We understand you simply cannot please everyone.
What we do have a problem with is when people take the time and effort to post negative comments about our content without actually taking the time to read it and verify what they are posting in forums - such as "Chris Ray" who is an Nvidia employed forums member. A lot of the issues that people have mentioned with our GX2 Early Test were actually covered in the article - they just did not read the actual article.
In the final thoughts we mentioned about the newer driver not being able to install, even though it was said to be for the GX2. If you do not think we actively searched or asked for a new driver, you are sadly mistaken. The next gripe is of course the people saying that SLI isn't working under Vista. I included the 8800GT for this very reason. The 8800GT specification is only slightly behind that of the 9800GX2 from a single core GPU perspective. Now with a bit of logic, you would think that if SLI wasn't working in a game, then performance would only be slightly faster than the 8800GT.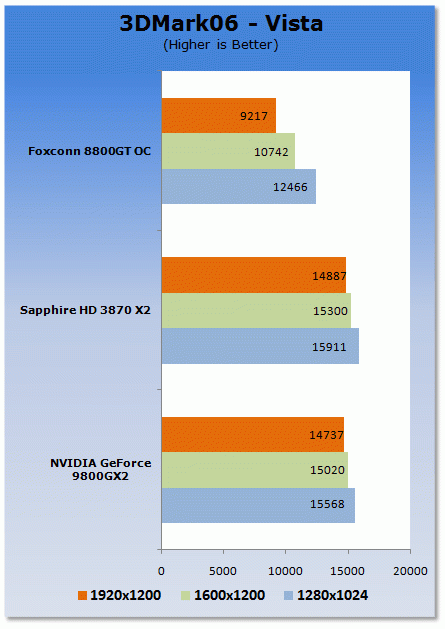 Performance gains over the 8800GT OC can be seen of up to and over 50% under Vista at times. Now if SLI was not working, how is it that a graphics card, with specs that is only slightly better than an 8800GT, score so much more? If you take the time to think about it you would probably realize that it is because SLI is actually enabled. Sadly for Nvidia fan boys, the GX2 is not all it is cracked up to be - at least with these early drivers.
There's been some funny comments said and one of my personal favourites is by one forum member (owner of Driver Heaven actually) saying that we only took pictures of the back of the card to protect the company that sent it. Well technically each side of the card is a back and we took pictures of both sides.
We are not here to annoy Nvidia or anyone else for that matter. We mentioned that the article was an "Early Test" in the article title. Performance as it is at the moment just as the people want to see and we are here to deliver it. We also mentioned that as soon as we get a new driver we will retest the card. We're extremely dedicated to the testing of drivers - we take the time every month to evaluate the latest Catalyst releases from AMD.
To the people who have taken the time to read the complete review and answered some of the responses we thank you. For those of you who have chosen to simply look at the graphs and nothing else playing on the saying "
Don't judge a book by its cover!
" how about... "
Don't judge a review by its graphs!
".