Intel has changed the packaging of its Core i9-12900KS processor, dropping the gold wafer that was previously included in the box with the Alder Lake flagship chip.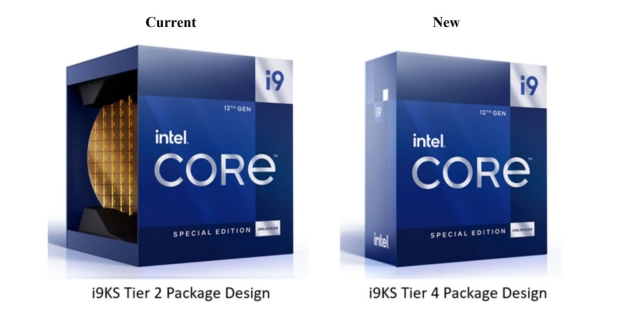 As VideoCardz spotted, the Core i9-12900KS now comes in a plain 'tier 4' box with no mock gold wafer (which is plastic, and not silicon, ahem - in case there was any doubt).
This is according to a Product Change Notification from Intel regarding the 12900KS, which is a highly-binned version of the 12900K that's pushed further with its clock speeds.
The move is no surprise, as this is standard practice for Intel's top-end processors that come with these replica wafers included. Indeed, the 12900K was also packaged with a gold wafer, but Intel dropped that last year (in August 2022).
Currently the 13900K and 13900KS are still packaged with a wafer, although for Raptor Lake processors, Intel changed the color of the wafer from gold to silver (a downgrade, if the Olympics is anything to go by). 13th-gen CPUs also benefited from a slimmer box design which has now come to the 12900KS, too.
There's something else different about the Core i9-12900KS now, and as you might imagine, that's the price, which has come down considerably since this processor was first introduced.
Back in the summer of 2022, the 12900KS retailed at $739 upon launch, but it's currently on sale at $399.99 at Amazon in the US, which is quite the drop. (It's still at $480 at Newegg, for example).
Of course, we now have the 13900K and KS from the Raptor Lake range, plus Raptor Lake refresh may be about to turn up in the next few months, if rumors are correct, giving us a seriously pepped-up 13900K most likely.
In that light, it makes sense for Intel to be dropping the wafer, and the firm is probably now running down stock of the 12900KS before it exits stage left.