The new ASUS ROG Ally might be positioned as a more powerful competitor to Valve's Steam Deck, but being a native Windows 11 device does mean that it features native support for the Xbox app.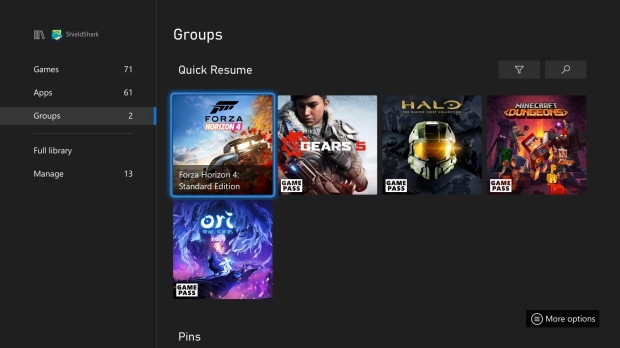 A Game Pass subscription immediately offers owners access to a huge library of games, including first-party titles from Xbox Game Studios like Forza Horizon 5 and Sea of Thieves, and popular third-party and indies to boot.
From Microsoft's perspective, looking at the ROG Ally as a portable PC gaming handheld makes it as close to being a console as it is a desktop gaming rig. And with that, Roanne Soanes, Microsoft's Head of Xbox Software, brought up a specific Xbox console feature that could be making its way to Windows - Quick Resume.
"How do we think about the idea of, you start on your PC, and you just want to take this with you, and you want to pick up where you left off, and you want to be immediately ready to go," Roanne Soanes said during an ASUS presentation for the ROG Ally (spotted by The Verge's Tom Warren on Twitter). "Console has some of those capabilities with Quick Resume today. How do we think about integrating this into the Windows platform?"
Quick Resume, which debuted alongside the Xbox Series X|S combo, is a low-power state feature that allows full game states to be saved with the option to get back into the action in seconds. Compared to a PC, launching a game is usually a 'cold boot' like scenario where you fire up a launcher and load a game from scratch - which can take minutes.
Modern Xbox consoles are based on x64 hardware, with the operating system code base sharing quite a bit with Windows, so a Quick Resume feature could be possible on PC despite the variety of form factors and underlying hardware. Especially if tech like DirectStorage is drawn from.
Or it could be something we see factored into the design of Windows 12.
What is clear, though, is that Microsoft is viewing Windows as a pure gaming platform in addition to being a PC operating system. The popularity of devices like the Steam Deck and the new ROG Ally lines up with a recent report that Windows developers have been playing around with dedicated handheld mode for the OS.