Xbox is great at using disruption and innovation to compete in the video games market, but it may not be able to outsell PlayStation and Nintendo consoles. Luckily, this is less important to Xbox than it is to its competitors.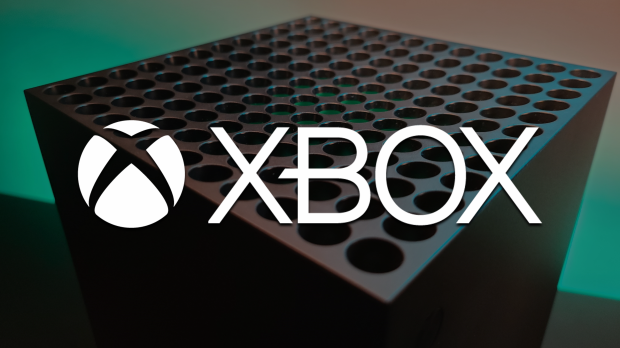 Xbox gaming CEO Phil Spencer recently said a lot of interesting things about Xbox, but the one that stands out the most is concerning the relationship between software and hardware. It's all too easy to make an eye-catching headline that reduces what Spencer said--something along the lines of "Xbox admits defeat, says it cannot beat PlayStation or Nintendo."
The truth is that Spencer's words offer more transparency into the Xbox business and games industry as a whole. To really understand what Phil Spencer meant in this interview, we need to look a bit deeper into how Xbox operates and how its fragmented business serves many platforms outside of consoles. Software is now meant to serve Game Pass and is much more diversified than it has ever been before.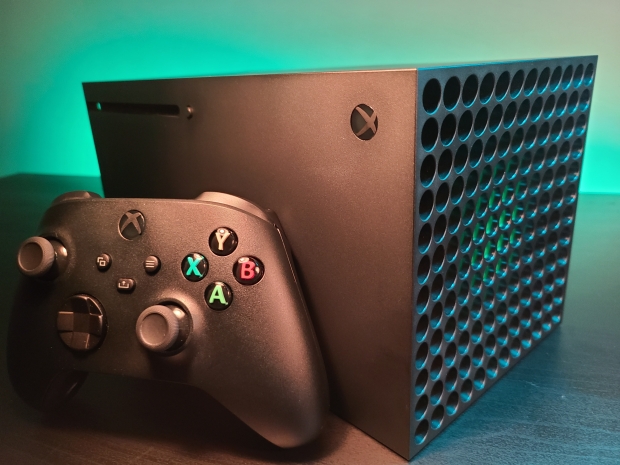 In the recent popular Kinda Funny Gamescast interview, Phil Spencer said this about the relationship between making big premium games and selling hardware:
"We're not in the business of outselling [Sony or Nintendo in consoles]. There isn't really a great solution or win for us. I know that will upset a ton of people, but it's just the truth of the matter.

"When you're third place and the top two players are as strong as they are, and have a discreet focus in doing deals that made being Xbox difficult for us as a team--that's on us, not on anyone else.

"Our vision is that everybody on console has to feel like they have a great experience and that they're first-class citizens. They've invested a ton in our platform. But we're not in a position--I see it out there, I see commentary that 'if you just build great games, everything would turn around.' It's just not true, that if we go of and built great games that all of a sudden that you're going to see console share shift in some dramatic way.

"We lost the worst generation to lose in the Xbox One generation, where everybody built a digital library of games. So when you go and you're building on Xbox, we want the Xbox community to feel awesome, but this idea that if we just focused more on great games on our console that somehow we're going to win the console race...I think that doesn't really play into reality.

"Most people, 90% of the people who walk into a retailer to buy a console, are already a member of one of the 3 systems, and their digital library is there. This is the first generation where the big games that they're playing were games that were available last generation, like Fortnite and Roblox and Minecraft. The continuity from generation to generation is so strong.

"I see a lot of pundits out there that kind of want to go back to the time when we all had cartridges and discs, and every new generation was a clean slate where you could switch the whole console share, that's just not the world that we are in today. There is no world where Starfield is going to [be a big hit] and people start selling their PS5s. It's not going to happen.

"So what we have to do, and we have seen what creators want to do; creators want to build games that can meet players on any screen, to allow people to play with their friends no matter what screen they're on, and the console is the core of the Xbox brand. There's no doubt. So we'll stay focused on making sure that console experience is awesome, but I know some people want to hold this up to being a better green version of what the blue guys do.

"I'm just going to say it: There's not a win for Xbox in staying in the wake of somebody else. We have to go off and do our own thing, with Game Pass, with the stuff we do with xCloud, and with the way we build our games."
That's a lot to chew on.
After examining the Xbox business for multiple years, I've been able to get a better understanding of what Phil Spencer is trying to say.
The reality is that Xbox probably won't ever catch up to Nintendo and PlayStation in terms of console sales. This is actually something that Microsoft probably realized long ago, way back when the Xbox One had its disastrous launch in 2013.
This setback has only compounded for Microsoft as it relates to hardware. Spencer said it best when he indicated Gen 8 was essentially the sink or swim moment for the PlayStation vs Xbox rivalry, and the effects are still felt today.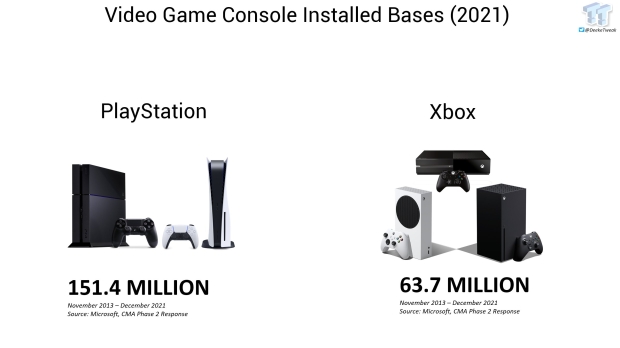 The main reason for this is because Gen 9 relies heavily on Gen 8. Sony was able to keep PlayStation's momentum going in part due to the strong entrenchment that Sony enjoyed through Gen 8; PS4s lead over Xbox One just got bigger and bigger, and the PS5 builds off of that success. This is a concept that Sony Interactive Entertainment CEO Jim Ryan calls a "virtuous cycle," or a compounding cycle where success begets success.
It didn't help that the PS4's games library pretty much all carried over to the PS5 era, ensuring that the software that made the PS4 the market leader could be enjoyed the PS5 users. I remember writing in 2020 that backwards compatibility was the most important feature for Gen 9, and that appears to be quite true.
To stay competitive, Microsoft had to disrupt the market, and it all started with disrupting its own business model. Microsoft has always sold Xboxes at a loss, and the compounding gains that Sony made during 2013 and onwards forced Microsoft to change.
Rather than adapt to the market conditions as they exist, Microsoft decided to disrupt its own market, and the video games software market as a whole, with Xbox Game Pass.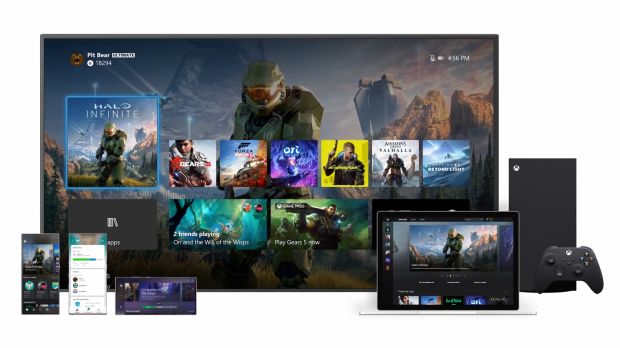 Read Also: Xbox's ethos seems platform agnostic, Phil Spencer reiterates gaming vision
The plan worked, and across the last 10 years, Microsoft has laid out an inter-connected infrastructure that joins four separate platforms into a cohesive network of subscriptions, monetization, and purchases. These platforms are glued together with Xbox Game Pass and encompass four form factors:
Xbox consoles (streaming and dedicated play)

PC (streaming and dedicated play)

Mobile devices (streaming only)

Smart TVs (streaming only)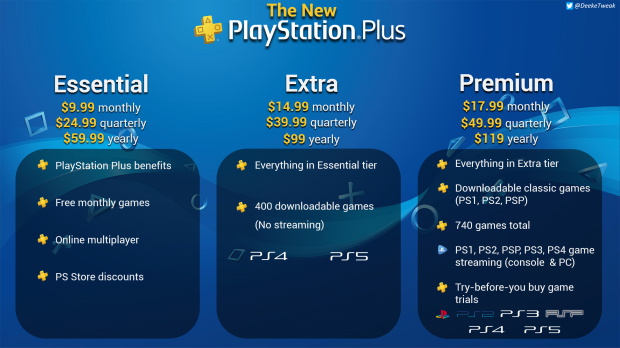 Game Pass is so disruptive that Sony re-modeled its services division under John Kodera, laying the frameworks for offline downloads on PS Now and eventually leading up to the ambitious joining of PS Now and PS Plus in the current three-tiered subscription service; PS Plus Essential, PS Plus Extra, PS Plus Premium.
There's just one main difference: Sony's business model is predicated in part on console sales, and premium software is a big driver for console adoption. Remember that Sony now sells the PS5 at a profit. The Xbox Series X/S apparently is still not profitable for Microsoft.
Gamers are willing to buy PlayStation hardware to play PlayStation games (the same goes for Nintendo, albeit on a much more significant level). PlayStation exclusives take a while to make, so gamers will play other titles to fill in the gaps, including heavily-monetized F2P experiences like Fortnite, Apex Legends and Genshin Impact. The sizable market lead in hardware install bases has facilitated an environment where more people are playing more third-party games because, well, there are more third-party games than there are first-party.
This major differentiation point led to the most transformational catalyst that essentially broke Microsoft's reliance on Xbox hardware sales: offering its first-party games day one on Xbox Game Pass, alongside offering a ton of catalog titles as well. Instead of relying strongly on hardware, Microsoft spread that reliance out with the introduction of subscriptions. The addition of subscriptions meant Microsoft had to provide enough sufficient value, which is how the current multi-dimensional scope of Xbox's software development and targeted segment delivery was born.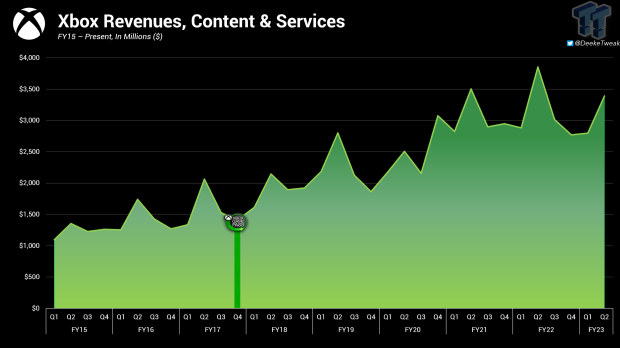 Through the sheer value of Game Pass, both console and PC owners could now access a massive library of titles. This likely negatively impacted Xbox console sales because gamers no longer had to buy consoles to play Xbox exclusives, but the calculated risk emphasized the most traditionally profitable aspect of the business: Software, services, and monetization.
Traditionally, hardware-makers were willing to sell their consoles at a loss because higher software made up for those losses. Unfortunately for Microsoft, its competitors had eventually made a handy profit off of their consoles. The Switch, for example, was sold at a profit on day one, and the PlayStation 5 reached profitability in June 2021.
Hardware was already compromised because of PlayStation's lead on Xbox. The Switch made matters worse. So Microsoft decided to double-down on software and services, the segments that traditionally generated the most money anyway.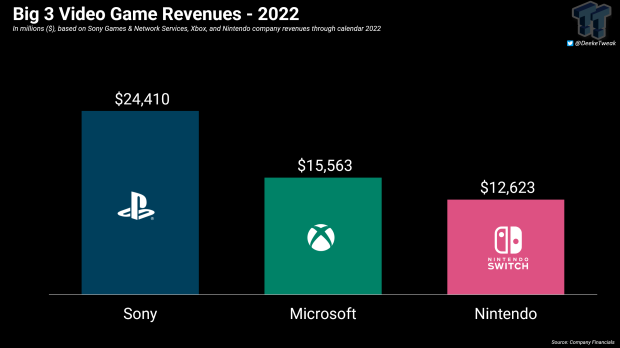 It's hard to say whether or not the gambit worked because we don't have Xbox operating profit, but we can see that Microsoft made more revenues than Nintendo in 2022, driven by strong content and services revenues that exceeded $12.5 billion.
That being said, PlayStation's lead over Xbox remains clear, underlining the compounding effect from its substantial lead in Gen 8; data indicates that PlayStation made $8.8 billion more than Xbox in 2022.
Even with its compromised hardware, and even if Xbox is never able to outsell PlayStation or Nintendo on the console front, Xbox remains not only competitive but relevant in the games industry. Its tactic of disruption has worked, leading PlayStation to follow suit with PS Plus, and Nintendo to get involved in services in their own way with Nintendo Switch Online.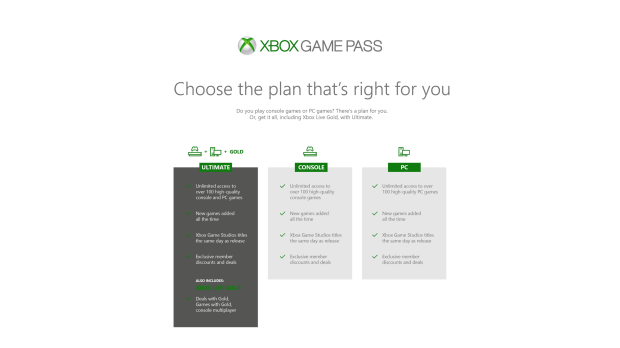 The real point of Phil Spencer's words is that Xbox has moved on from relying on big premium tentpole games like, say, Halo 3 in order to claim a higher spot in console sales market share. Microsoft doesn't really need to take higher console share any more because it relies more on services, subscriptions, and content than it does hardware.
That's not to say these kinds of games aren't important, because they are; premium games serve a critical role in the Xbox Game Pass ecosystem in that they can help drive up subscriber adoption and lead to more active paying subscriptions, especially on a first-party level.
However, the bulk of Xbox Game Pass' value relies on catalog content, not new games, simply because there's more older games than there are newer ones. The new titles are more of the icing on the cake depending on who you ask, and are more limited compared to the heavy-hitting value associated with nearly full libraries of games from all of Xbox Game Studios' myriad development teams because the new games were built with this multi-scope targeting scheme in mind.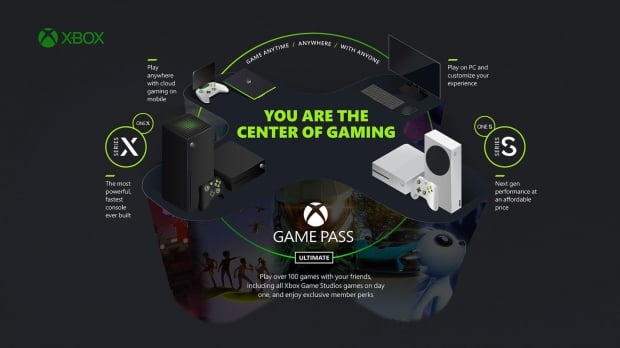 Xbox's business model is so fragmented, flexible, and ultimately nuanced that making big premium games is not enough to radically turn around console share. That's by design, and it's also because premium games no longer just serve hardware sales, but also serve Xbox Game Pass subscriptions.
And as we've explored, Xbox Game Pass serves more than just the console market--it's heavily involved in PC as well, and breaking into mobile environments through xCloud and Smart TVs to a notable, albeit much lesser, degree.
Microsoft is no longer reliant on hardware so the games it makes aren't always meant to sell hardware, but to be spread out across Game Pass as well. Things have changed for Xbox, and they will never be the same again. Long gone are the days when premium games were the main focus of the Xbox brand, and this flexibility has allowed Xbox to remain competitive and disruptive while maintaining its service to Xbox consoles.
This model is far from perfect and needs a lot of work, and yes, Xbox does need more big AAA premium games to help boost hardware (even if Xbox is less reliant on consoles, it's still nice to sell them), software sales, and Game Pass subscriptions in one fell swoop. The issue is that Game Pass can actually negatively impact game sales and sometimes leads to identity crises in specific games that try to meet three, or even two, of the main goals...like the recently controversial release of Redfall.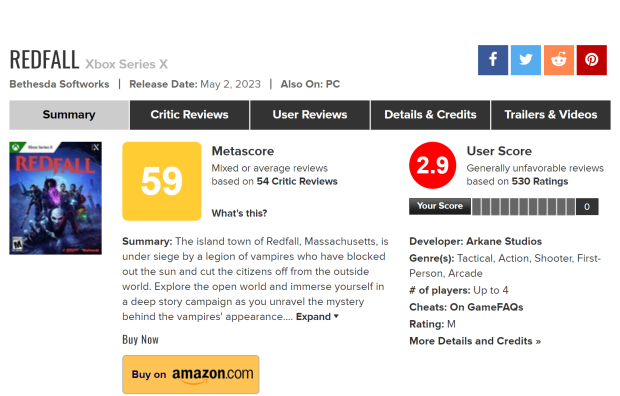 Redfall was sold as a $70 game, but it's clear the project was meant to serve Game Pass and not necessarily act like a big AAA premium title. This is evidenced by the game mechanics offered in the title, which are more service-oriented without any monetization, further underlining its focus as a Game Pass title that could serve retention more than, or rather than, adoption, monetization, or software sales.
This identity and scope issue led to disjointed game mechanics from a developer that isn't typically associated with looter shooters, and on top of these issues, the game suffered significant glitches, bugs, and technical problems at launch.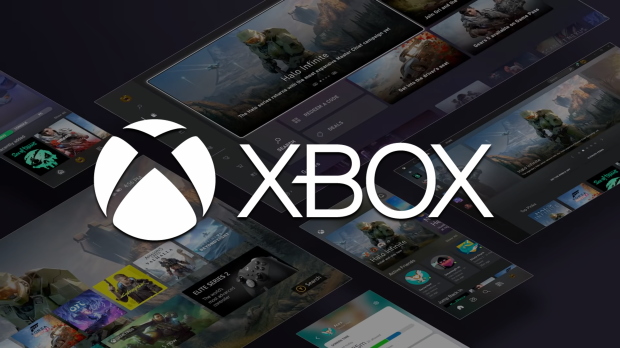 To be clear, though, Redfall is not representative of Microsoft's ambitions. It is an unfortunate result of poor execution and a what appears to be misalignment of resources, scope, and segment delivery targets. It was never really made clear as to what segment it would serve--is it a AAA game worth $70, or is it just meant to boost Game Pass' value? Arkane, Bethesda, and Microsoft tried to position the game as both, but that didn't work because the title just doesn't live up to the steep requirements of such a $70 premium-priced AAA game.
Unfortunately, Redfall became another blemish on the Xbox business and punctuated a long series of misses and absences in the big AAA category. Meanwhile, Xbox has been busily launching a number of smaller-scale games like Pentiment, Hi-Fi Rush, and Minecraft Legends, which reinforce the nuanced Xbox Game Pass model that relies on a full spectrum of titles instead of just big catalog AAA games.
Microsoft will need to continue disrupting its own business model before it finds the right alignment of its games to its services and hardware scope, but even if Microsoft were to release mega-hits, the platform is unlikely to beat PlayStation or Nintendo by virtue of its own business model that relies strongly on the production of multiple types of games that aren't just meant to sell hardware.
These titles take time, resources, planning, and of course funding, and as big as Xbox Game Studios currently is, not all of these teams can handle the fluctuations of AAA to AA production.