In spite of Redfall's disastrous launch, Xbox business lead Phil Spencer says he will not stifle creative freedom and wants to allow teams to fully realize their visions, even if that means taking big risks.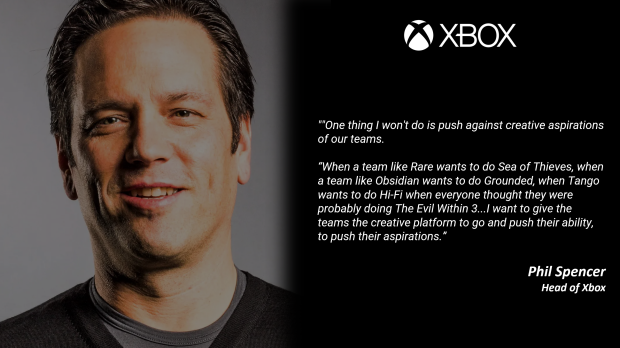 By now you've probably heard about Arkane's new game Redfall, the vampire survivor FPS that's driven a metaphorical stake through Xbox's heart. In a recent interview with Kinda Funny Games, Xbox's Phil Spencer showed candor and transparency on his leadership tactics, saying that despite Redfall's controversial launch, he won't order his teams to just make numbered sequels and to stick to what they're good at. Spencer encourages studios to be creative and try new things--even if that means sometimes underdelivering on content.
"One thing I won't do is push against creative aspirations of our teams," Spencer said.
"I know a lot of people will say 'hey, you've got teams that know how to do one kind of game. Just force them to go do that one kind of game that they have a proven track record for.' I'm just not a believer in that. Maybe that means I'll underdeliver for some of our fans out there.
"When a team like Rare wants to do Sea of Thieves, when a team like Obsidian wants to do Grounded, when Tango wants to do Hi-Fi when everyone thought they were probably doing The Evil Within 3...I want to give the teams the creative platform to go and push their ability, to push their aspirations."
As admirable as this aspiration may be, Spencer does note he still needs to deliver good products. It's been agreed upon by gamers that Redfall simply wasn't one of these products.
"But I also need to have a great selection of games that are continuing to come, that surprise and delight our fans. We underdelivered on that. For that, I apologize--it's not what I expect, not what I want. But it's ours to deliver."
Spencer went on to take responsibility for Redfall's release and says he is disappointed with the game's overall release:
"There's nothing more difficult for me than disappointing the Xbox community. Just to watch the community lose confidence...I'm disappointed, I'm upset with myself. I revisit our process...not shipping 60FPS when we showed 60 FPS was kind of our punch in the chin."
"The critical response is not what we wanted. It's disappointing. To kind of pick myself up; what can we learn, what can we do better? There's clearly quality and execution things that we can do."
Interestingly enough, reports from Windows Central indicate that ZeniMax, the label that houses Redfall game developer Arkane, operates as its own unit and that Redfall was in development before Microsoft acquired ZeniMax in 2020.
Windows Central's investigation notes that most of the responsibility of Redfall's development and subsequent launch may lie on ZeniMax, and not reflect Xbox; after all, it's said that ZeniMax studios aren't entirely under the purview of Xbox Games Studios head Matt Booty.
Despite this, Phil Spencer has taken responsibility for Redfall's launch.