YouTube channel The Eric Experiment has documented how he built - from scratch - a tiny custom, fully functional 486 PC. Using actual parts, this is not a Raspberry Pi system emulating a classic MS-DOS PC; the video outlines a fascinating, cool, and brilliant journey to create a mini 486 PC. Here's a look at the final product sitting next to what an actual 486 PC looks like. And, yeah, like us, you're probably wondering how he fit all of that hardware in such a tiny space.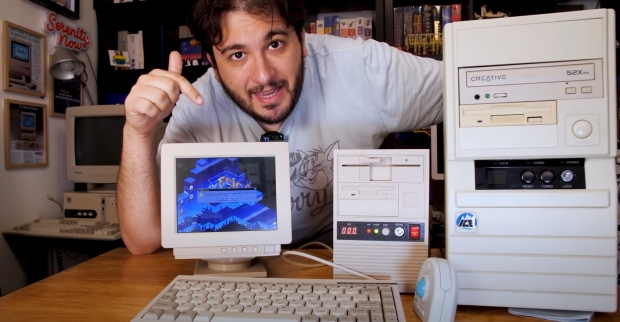 Hardware-wise, this is rocking an Intel DX4 100 with 32 MB of memory with sound and video compatible with old-school Windows 3.11, 95, and MS-DOS.
The short answer is that it wasn't easy, even with a four ISO-slot backplane, to stack all the cards and hardware in a compact space. From custom PCB designs and other hacks, it's a masterclass in modding.
There's some serious ingenuity going on here too. As it would have been impossible to fit an actual old-school hard drive and floppy disk drive in such a tiny case, he cleverly hides an SD slot serving as the HDD and a USB slot serving as the floppy disk emulator.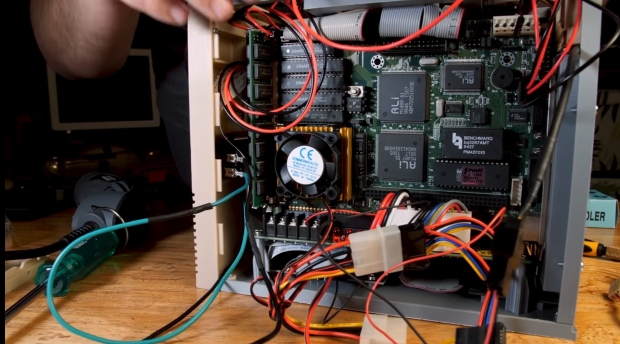 With the custom 3D printed mini case in the style of old-school beige MS-DOS and Windows 95 cases, and even a 3D printed mini-monitor case for a tiny LCD display in the style of an exact monitor he used to use growing up, the project went through several revisions, designs, since it started back in 2021.
The section on putting all the parts together is pretty incredible if you've ever tinkered with PC parts from the 1990s, as is the section on creating an old-school-looking monitor using an off-the-sheld LCD display with an 800x600 resolution inside a detailed 3D printed shell. Be sure to watch the full video and have your mind blown.
Oh, and when it comes to the constant revisions and redesigns to adapt to trying to get real hardware inside such a tiny case, here's a glimpse of the many failed 3D printed parts. In the video, Eric sincerely apologizes to Earth for wasting so much plastic, as he fully expected his original designs to work fine.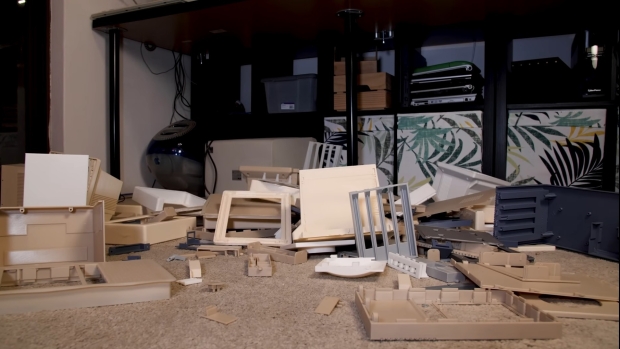 Still, the end result is one of the most impressive custom PC mods we've seen in a while, so maybe Earth will be okay this one time.