NVIDIA's RTX 4070 is seemingly continuing to be the victim of somewhat lackluster demand, with another European retailer having been spotted cutting the price of one model well below the MSRP.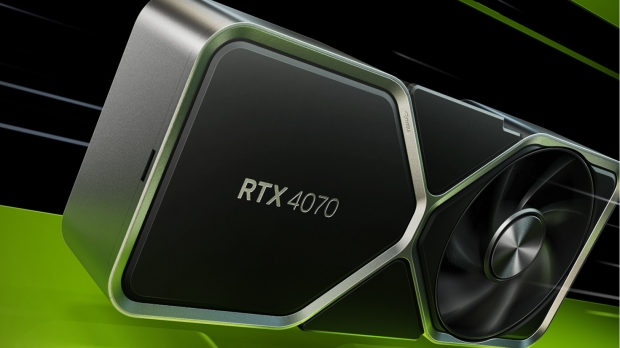 German tech site Computerbase spotted that a retailer in Germany, Alternate, has cut a Gainward GeForce RTX 4070 Ghost graphics card down to €599.
Given that the official recommended price for the RTX 4070 in Germany is €659, that's an almost 10% reduction from the MSRP. This mirrors what happened in Poland recently, where a Palit RTX 4070 was dropped by a similar amount.
These kinds of cuts just after launch are pretty much unprecedented, as far as we can recall, and they do not paint a pretty picture of demand for the RTX 4070.
Hefty drops in MSRP are not the only evidence that the RTX 4070 graphics card is seriously struggling to shift units. We've also heard that NVIDIA is going to cease making new RTX 4070 GPUs to give some breathing room for the graphics cards already out there to sell through. Igor's Lab floated the idea of a two-week production hiatus to help rebalance the current oversupply of the video card.
Elsewhere, sources from the Chinese supply chain have claimed NVIDIA could press the pause button on production for more like a month.
With chatter like this, and initial sales figures from some retailers like MindFactory (in Germany) looking somewhat shaky, it's difficult to form any conclusion other than the RTX 4070 is having a really tough time of things.
Pricing and perception
Why? Well, as we've discussed previously, while this new graphics card from NVIDIA is not a bad model by any means - in fact, the GPU got a glowing review here at TweakTown - it's simply the price that is a sticking point for many gamers.
They're looking at what is effectively a mid-range model, then looking at the asking price of $599 and just concluding that this is too much. While the price/performance ratio of the RTX 4070 may not be out of line with what has come in the past, broadly speaking, the perception of that bigger price tag seems to make for just too big of an ask for many folks. (Especially with the VRAM loadout of 12GB).
And with prices already having dropped some, buyers are likely to sit on the fence for the time being, and hope that NVIDIA - and its graphics card making partners - have their hands further forced to reduce pricing on this card.
That said, it's debatable whether this can be done in the face of the launch of the RTX 4060 Ti, which is rumored to be pitching up at the end of May. Naturally, it depends on where NVIDIA wants to price the 4060 Ti, and if it's at $399, as a recent rumor contends, then that gives enough room to play with for dropping the RTX 4070's price.
Moving up to a possible $450 price tag for the RTX 4060 Ti, though, which we've heard whispers of via the grapevine in the past, and there's not so much wiggle room to adjust the price of the $600 RTX 4070 and still make things fit sensibly.
All these rumors are too up in the air right now to draw any kind of conclusion, but for the time being, it looks like NVIDIA would rather make fewer RTX 4070 chips than look at dropping the MSRP further.