Nintendo wants to avoid testifying in the Microsoft-Activision merger case, and has asked FTC law judge to dismiss a subpoena that would require a Nintendo executive to testify before the FTC.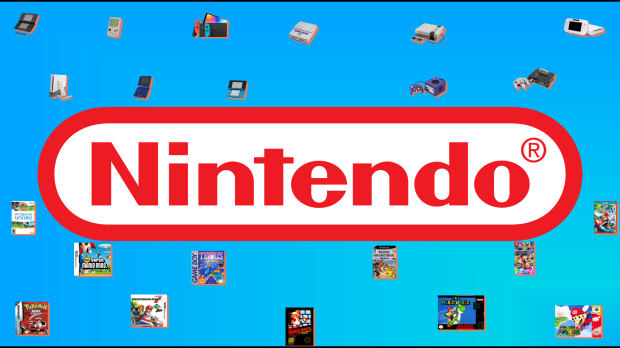 While the CMA prepares its final decision on the Microsoft-Activision merger, FTC regulators in the United States are still collecting information in an attempt to sue to block the $68.7 billion merger. The FTC's antitrust lawsuit is currently still in discovery phases and regulators are looking to major players in the video games industry to provide documents, data, and testimony in regards to pertinent areas of interest, including Sony Interactive Entertainment, Take-Two Interactive, Valve, and Nintendo of America.
However, the FTC may not get its way in regards to Nintendo. Legal counsel for Nintendo of America has submitted a motion to quash--or cancel--the FTC's "untimely" subpoena that would have required Nintendo of America's Steve Singer, who serves as senior vice president for publisher and developer relations, to deliver sworn testimony before the FTC's Complaint Counsel (a group of lawyers representing the FTC that bring forth the anti-competition charges against the merger).
Singer was the one who negotiated with Microsoft to eventually create the 10-year licensing deal to bring Call of Duty games to the Nintendo Switch platform. Back in December 6, Singer worked alongside Microsoft to sign a letter of intent, or an official early draft, of the Call of Duty deal.
In the public filing available on the FTC's website, Nintendo of America's lawyer Leonard Gordon makes a case that Nintendo should not have to comply with the subpoena. Why? The subpoena itself was submitted too late. Gordon argues that the FTC's subpoena was submitted weeks after the case deadline of March 3.
"Complaint Counsel purportedly served the Singer Subpoena on March 29 or 30, 2023. Therefore, the Singer Subpoena is untimely, and should be quashed," Gordon wrote in the filing.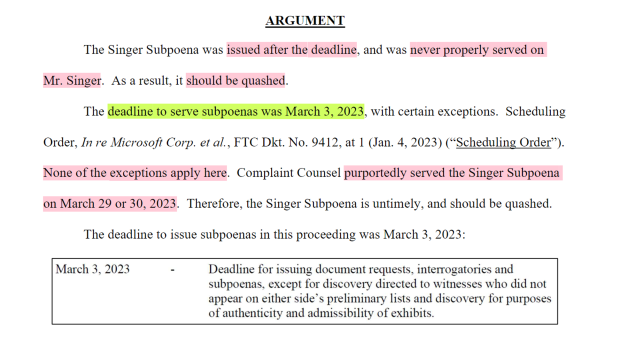 Nintendo of America's counsel goes on to say that there is "no good cause for excusing Complaint Counsel's failure to comply with the subpoena deadline."
The motion is currently in review by the FTC's Chief Administrative Law Judge D. Michael Chappell and no decision has been made or published on the matter.
Ultimately, Nintendo wants to keep out of the merger talks as much as it can, and it definitely does not want any information, data, or documents to be released as part of the FTC's determinations. This is made clear by the massive redactions that Nintendo of America has made in this smaller quash filing.