The Apex Storage X21 is a single-card storage solution that can store up to 21x M.2 NVMe Gen 4 SSDs, delivering 168 TB of storage when paired with 8TB M.2 SSDs. And that's exactly what Sabrent has done with what it calls Sabrent Apex X21 Destroyer, an impressive creation that pairs the Apex Storage X21 with 21 of its Rocket 4 Plus 8TB SSDs.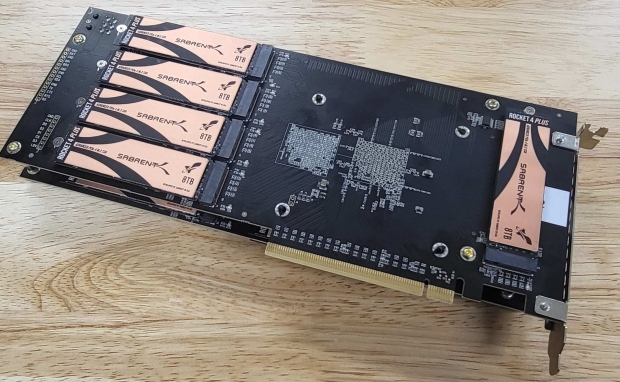 The Sabrent Apex X21 Destroyer uses a single PCIe x16 slot and requires 2 x 6-pin power connectors. Naturally, this card is designed primarily for servers and high-end workstations though the X21 is not equipped with a RAID controller chip. There's also no active cooling on the card, so additional fans would probably be needed depending on the environment.
With 21 x Rocket 4 Plus 8TB SSDs, the Sabrent Apex X21 Destroyer pushes the card to the limit delivering an eye-opening 168TB of high-speed Gen4 storage on a single card. Regarding speed, the X21 can deliver sequential read speeds of 30.5 GBps and write speeds of 28.5GBps. The random performance consists of 7.5 million and 6.2 million IOPS for reads and writes.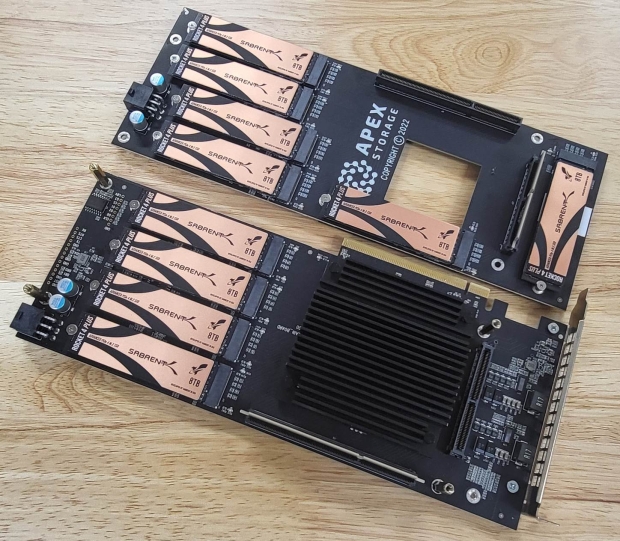 Sabrent sent us pictures of the Sabrent Apex X21 Destroyer, and it looks a little insane - as it's hard to fathom that amount of high-end storage on a single-slot card. It notes that disassembly is easy as there are four screws holding it together, and installing the SSDs is straightforward from there.
Sabrent notes that it is testing this beast internally with plans for independent reviews sometime in the future. Sabrent even notes that when 16TB M.2 SSDs are released, there's no reason why the capacity could then jump up to 336 TB.
Could something like the Sabrent Apex X21 Destroyer work in a fully decked-out gaming rig? Potentially. The cost would be astronomically prohibitive, but seeing a Steam library of a thousand games installed and ready to go would be cool.
Here's a look at the Apex 21 specs.
Host 21 x M.2 Gen 4 NVME SSDs

168TB+Storage Per Card

31GBps Read/Write Speeds

Industry Leading IOPS

100 PCIe 4.0 Lanes

Full UEFI/Secure Boot Support