The Cougar Cratus is a new and visually stunning min-tower PC case, with the company describing the angled interior layout as an "industry-first revolutionary innovation."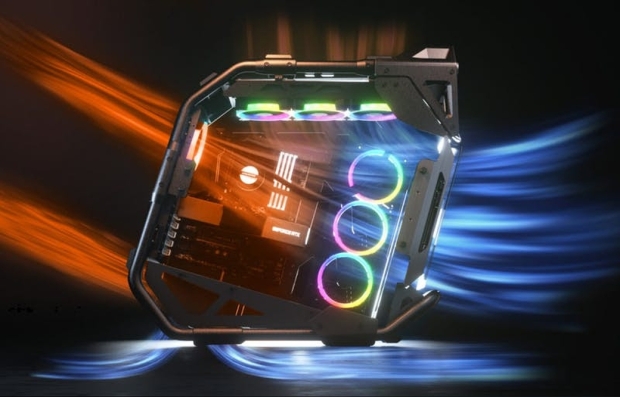 And it's a pretty straightforward design principle to wrap your head around on account of hot air rising, with the Cougar Cratus creating a cyclical current to ensure the hot air rises and cool air falls for maximum airflow. The image showcases cool air entering the case from the front and underneath, pushing hot air through the top and rear.
The visual look of the Cougar Cratus is quite something, with the case made up of a precision-tooled steel tube frame and four tempered glass panels that are also contoured to match the case's shape. Curved glass is definitely premium stuff for a PC case.
The tinted panels are also designed to show off the parts inside, and there's ample room for high-end components and RGB lighting. On the lighting front, there's a light bar and built-in LED controller compatible with the motherboard's 5V ARGB connection for synchronization.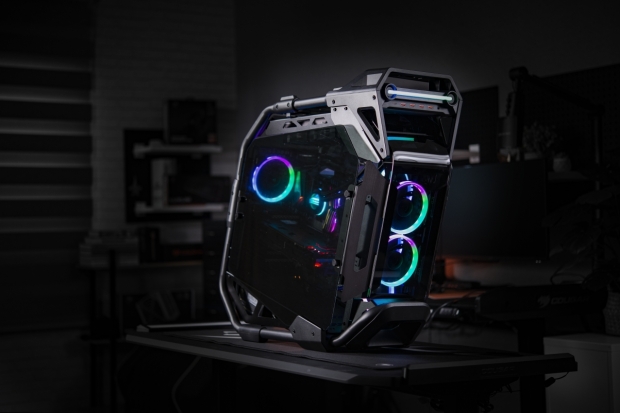 With dimensions of 283 x 636 x 635mm, the Cougar Cratus is also big enough to handle up to 460mm long graphics cards, with additional space for traditional 3.5" HDDs and 2.5" SSDs. Radiator support is ample, too, with 360mm water cooling possible alongside room for nine fans. There's also room to route cables through a dedicated 45mm storage space to show off a clean build.
The Cougar Cratus is an impressive PC case with a rugged design and a unique angled interior. It carries an MSRP of USD 499 and is available now in the US.
Below are the full specifications.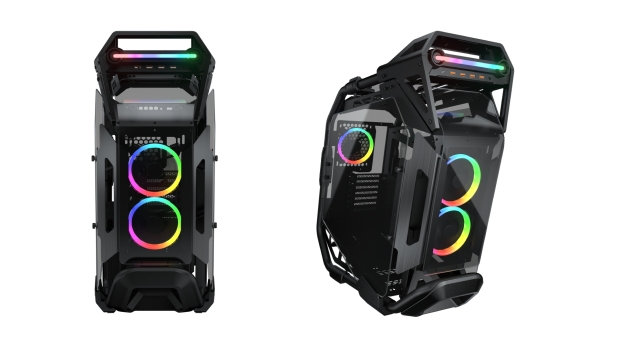 Case Form Factor: Mid Tower
Motherboard Type: Mini-ITX / Micro-ATX / ATX / CEB / E-ATX
Dimensions (WxHxD): 283 x 636 x 635 (mm)
I/O Panel: Type-C Gen 2 (Key A 20-pin connector) x 1, USB 3.0 x 4, 4 Pole Headset Audio Jack x1, RGB Button
3.5" Drive Bay: 2
2.5" Drive Bay: 3 + 2 (converted from 3.5" drive bays) / (3 SSD trays included)
Expansion Slots: Horizontal: 7 / Vertical: 4 (install with a vertical bracket in the accessory kit)
Cooling Fan Support: Front: 120mm x 2 / 140mm x 2, Top: 120mm x 3 / 140mm x 2, M/B Side: 120mm x 3, Rear: 120mm x 1
Pre-installed Fans: Front: 120mm ARGB fan x 2, Rear: 120mm ARGB fan x 1, Speed: 1000 ± 100 RPM
Connector: 5V 3 Pin (ARGB) / 3 Pin (Fan)
Maximum Number of Fans: 9
Water Cooling Support: Front: 280mm / 240mm / 140mm / 120mm, Top: 360mm / 280mm / 240mm / 120mm, M/B Side: 360mm / 240mm / 120mm
Transparent Panel: Tempered Glass x 4
Onboard Lighting System: Yes
RGB Sync with M/B: Yes
Max. Graphics Card Length: 460 (mm)) / 18.1 (in) without fans and radiator at M/B side, 325 (mm) / 12.8 (in) with fans and radiator at M/B side
Max. CPU Cooler Height: 190 (mm)
Max. PSU Lengh: 200 (mm)