The GeForce RTX 4070 launch is coming next week, with multiple models set to arrive, including a Founders Edition from NVIDIA - at least according to sources. The RTX 4070 hasn't been officially announced yet, but we're days away from seeing it in action.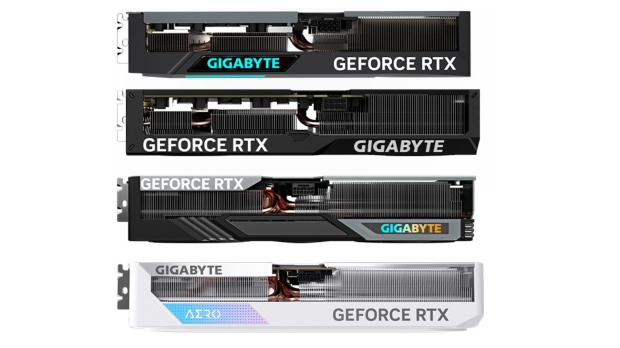 The reported price point of USD 599 makes it the most affordable GeForce RTX 40 Series GPU. We've also got word that the 200W power rating will mean some models from partners will use a single standard 8-pin power connector instead of the 12VHPWR connectors used in all RTX 4090, RTX 4080, and RTX 4070 Ti GPUs.
Today comes some new info from established leaker @momomo_us that GIGABYTE plans to launch four GeForce RTX 4070 models, covering the company's Eagle, WindForce, Gaming, and Aero variants. And with a side on image showcasing all four RTX 4070 models, we can see that two will use a single 8-pin power connector while two will use the new 12VHPWR standard.
The reason for this comes from more rumors specifying that certain GeForce RTX 4070 SKUs will offer a 225W TDP, with the 8-pin models being limited to 200W. It's unclear what this small bump will mean for the GPUs, but we assume the more premium 12VHPWR models might feature higher clock speeds and more headroom for overclocking.
This new leak all but confirms that the more expensive GeForce RTX 4070 models will sport the 12VHPWR connectors and feature a higher power rating. As for the designs, these RTX 4070 models will share similar coolers to RTX 4070 Ti models, apart from the switch to a single 8-pin power connector for the more affordable Eagle variant. The first GeForce RTX 4070 reviews are expected to arrive on April 12.