Although we've had plenty of reports outlining the USD 599 price-point for the GeForce RTX 4070, specs, and the launch happening next week - we haven't received an official announcement that the GPUs are coming from NVIDIA until now.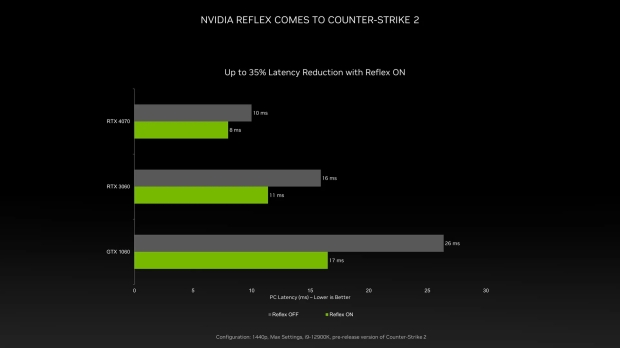 And the source is a bit strange, with the RTX 4070 making its first appearance in official NVIDIA benchmarks for the company's low-latency Reflex technology coming to Counter-Strike 2 (via The Verge). The long-awaited update to Counter-Strike will see the next-gen Valve Source engine-powered version of the game eventually take over from CS:GO.
And the benchmark is weird because it compares PC latency between three GPUs - the RTX 4070, RTX 3060, and the GTX 3060. Well, maybe not odd, as these older GPU options represent some of the most popular graphics cards according to the latest Steam Hardware Survey. And CS:GO is one of the most popular games on Steam, so the comparison here makes sense.
NVIDIA Reflex is a technology designed to lower PC Latency. For competitive shooters like Counter-Strike 2 is about reducing the time between pressing a mouse button and seeing the intended action on-screen. The lower the PC Latency (measured in ms), the better, and this chart outline that the upcoming GeForce RTX 4070 performs considerably better than the current mainstream GeForce graphics cards.
For the RTX 4070, the drop in latency, thanks to Reflex, is smaller (percentage-wise) than older GPUs, but this is due to the increased rendering power presenting better performance with or without Reflex enabled.
NVIDIA Reflex is available in 9 out of 10 of PC's most popular competitive shooters. Reflex can be found in Apex Legends, Call of Duty: Warzone 2.0, Destiny 2, Escape from Tarkov, Fortnite, Overwatch 2, Tom Clancy's Rainbow Six Siege, and Valorant. With Counter-Strike 2 added to the list, the only outlier that remains is PUBG.