A lower-quality Call of Duty game could ruin the PlayStation business, Sony's Jim Ryan told UK regulators at the Competition and Markets Authority.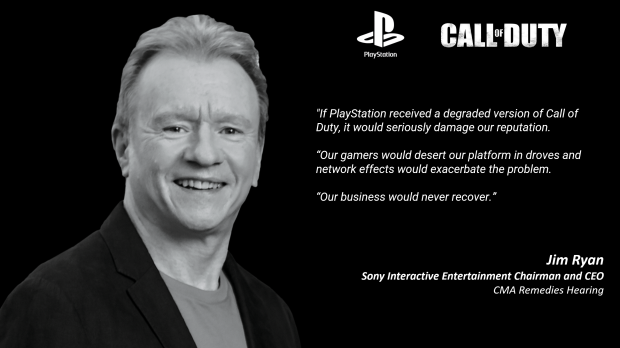 The CMA recently filed an amended version of its provisionary findings report, and the new revision made some waves. The new report states that the UK regulator no longer believes Microsoft has the incentive or ability to withhold mega-hits like Call of Duty from PlayStation. The CMA has determined the downside of losing out on PlayStation revenues is just too high.
Sony's legal counsel opposes the CMA's new provisionary findings and has identified and explained four key errors with the CMA's data model that was used to make the agency's determination.
Another major point that Sony's counsel continues to make is the possibility that Microsoft will downgrade Call of Duty on PlayStation, and release an inferior product for Sony's rival platform, thereby triggering partial foreclosure strategies that attempt to sabotage the game's performance on PlayStation consoles. This is the second time that Sony has mentioned this particularly nefarious strategy.
Sony Interactive Entertainment CEO Jim Ryan takes things even farther, arguing that an inferior version of Call of Duty on PlayStation would permanently damage the games business.
Any degradation in the price, performance, or quality of play on PlayStation or any delays on release would quickly harm SIE's reputation and cause a loss of engagement and of players.

As SIE's CEO, Jim Ryan, explained to the CMA at the Remedies Hearing, if PlayStation received a degraded version of Call of Duty, it would "seriously damage our reputation. Our gamers would desert our platform in droves and network effects would exacerbate the problem. Our business would never recover."
This appears to ignore the enormous reputational harm that Microsoft would suffer in the process of undercutting its rival with a lower-end version of the same game.
It's true that the Xbox Series X is theoretically more powerful than the PlayStation 5, but besides smaller spec differences and haptic feedback integration, the two platforms are largely the same insofar as capabilities. It's true that the two platforms have quite different SDK software development systems, with the PS5 using a forked version of Linux and the Xbox Series consoles using Windows OS, but ultimately developers like Activision have found fantastic common ground between the two systems and have created multiple games that attempt to flex the power of each.
It is highly unlikely that Microsoft would purposefully degrade, downgrade, or sabotage a game to make it run worse on PlayStation in an attempt to get people to switch to Xbox, especially considering Xbox is no longer a console platform and more of an ecosystem of services and content that spans multiple platforms--Xbox is on PCs, consoles, and even mobile phones and TVs through its game streaming subscription.