A part of Twitter's source code was uploaded to GitHub on Friday last week, and immediately the public began diving through the files.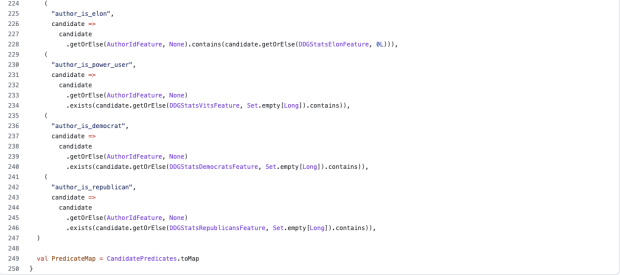 The revealed code suggested that Twitter's algorithm would identify tweets by Elon Musk and label tweets by other users as "Democrat", "Republican," or "power user". The portion of the code that revealed these details has since been removed from GitHub, but a screenshot of it can be found above. Twitter CEO Elon Musk appeared in a Twitter Spaces call to address these concerns of his name being hardcoded into Twitter's algorithm, saying that he found it "weird" and that "This is the first time I'm learning of this by the way."
During the Twitter Spaces call, Twitter engineer Brian Wichers explained that these categories or labels were implemented into the algorithm about 10 years ago, and they are not a valuable variable throughout the entire code base. The point of the labeling not being an important factor throughout the entire code base was backed up by another Twitter engineer on the call, who said that these categories were only used for tracking purposes to identify if the platform was swaying too far towards one side.
Additionally, the Twitter engineer said that the labels weren't used to give any "special treatment" to specific users, including Musk. Notably, Musk directly asked his developers about the discovery since he claims, at the time, was only just hearing of it.
Musk followed up after the Twitter engineers explained its existence by saying he doesn't believe the code should ever be dividing people into two political parties, and that "That's why I prefaced this that there will be a ton of like stupid embarrassing things", referencing his push into making Twitter more open-source, which people will find after scouring the released code, embarrassing portions written by Twitter's prior management.
It should be noted that the released code represents the algorithm that Twitter uses to determine what content is shown on its For You timeline, and according to Musk, who took to his personal Twitter account on Friday, this released portion of the code is "most of the recommendation algorithm". The remaining is expected to be released at an unknown point in the future.
Twitter explained in a recent blog post how the platform's algorithm works, writing that it takes a three-step approach to determine if a piece of content should appear on the For You timeline. First, the company gathers the best tweets from different recommendation sources as part of a process called "candidate sourcing," then a machine learning model ranks the pieces of content and filters out any blocked tweets, inappropriate tweets, or duplicate posts.
In other news, a team of researchers have pointed to a specific type of planet for where aliens could be hiding. The team looked at planets that only showed one side to their host star and determined that the right temperatures for life to exist could occur at the termination zone. If you are interested in reading more about this story, check out the below link.