In what appears to be the second giant hole appearing on the Sun, scientists have reported that Earth may be smacked by a stream of solar wind traveling as fast as 1.8 million miles per hour.
The discovery of the Sun's new hole, which is more accurately defined as a coronal hole, comes after the discovery of an extremely large coronal hole that's estimated to be 30 times the size of Earth. For reference, the newest hole is estimated to be anywhere between 18 and 20 Earths in diameter. Notably, the larger of the two holes has already begun rotating away from Earth, while the smaller, recently discovered coronal hole has come into view, leading researchers to warn that Earth may be struck with a stream of solar wind pouring out of the Sun.
Researchers write that the potential stream of solar wind, which is expected to hit Earth by Friday or Saturday morning, won't damage any human infrastructure but may cause auroras to appear closer to the equator, where sightings are much more rare. For those that don't know, coronal holes release streams of solar wind into space, and while they are quite common, they don't typically appear near the Sun's equator, as these ones have.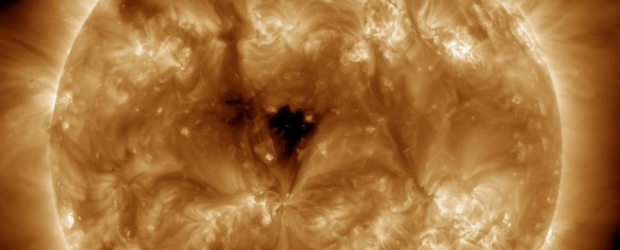 This stream of solar wind is charged particles that, when they hit Earth, collide with the atoms within Earth's atmospheric layers. The collision of the charged particles with the various atoms within Earth's atmosphere produces specific colors, depending on the atoms that were collided with. The colors emerging from these collisions produce the phenomena we call auroras, or the Northern and Southern Lights.
Back to the coronal holes. Mathew Owens, a professor of space physics at the University of Reading, explains that the appearance of coronal holes near the Sun's equator can be explained by our local star entering into its stage of peak activity, which researchers estimate to occur once every 11 years. During this time, coronal holes appear near the Sun's equator more frequently, which means, by extension, that Earth is blasted with much more solar wind.
So, how fast is solar wind? According to reports, these streams of charged particles from the Sun can travel as fast as 1.8 million mph.
In other space news, Earth was unexpectedly rocked by a blast from the Sun that was the most intense solar storm in nearly six years. If you are interested in learning more about the Sun, auroras, or the recent solar storm, check out the below link.