Earth was just smacked with a very powerful blast from the Sun that caused the spawning of auroras more south than they typically appear.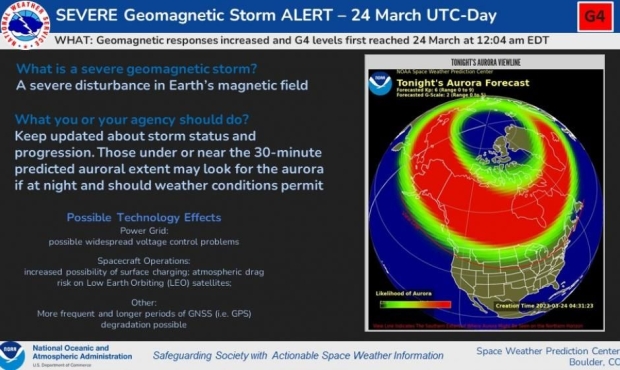 The event occurred on March 25 and was confirmed by the U.S. National Oceanic and Atmospheric Administration (NOAA), which issued a statement declaring a severe geomagnetic storm warning and an image showing where the impact would be focused. NOAA's map of Earth shows a large swath of North America being right in the impact zone, which coincides with the plethora of gorgeous aurora images that were posted online during and following the storm.
NOAA ranked the solar storm at G4 on the 5-grade scale that is used to define the intensity of a geomagnetic storm. Notably, the impact of the storm was so strong that there were reports of the Northern Lights appearing as far south as New Mexico in the U.S. So, how does this happen? Auroras such as the Northern and Southern Lights typically appear close to the Earth's poles as the planet's magnetic field deflects charged particles around the planet to its poles, where they reach the weakest points of Earth's magnetic field.
The collision between the charged solar particles and the atoms in Earth's atmosphere produces the incredible colors we see, and the color is determined by the type of atom being collided with. For example, oxygen atoms produce the most common aurora color, green, while nitrogen atoms produce pinks and reds, and hydrogen and helium produce blues and purples. The color is also determined by the altitude of these collisions.
When the planet is smacked with a blast of charged particles from the Sun, in what officials call a Coronal Magnetic Ejection (CME), auroras can appear much closer to Earth's equator as more of the planet's upper atmosphere becomes littered with collisions. The event that occurred on March 24/25 was reported as the most powerful solar storm to occur in nearly six years, hence photographers being able to snap gorgeous shots from locations they typically weren't able to.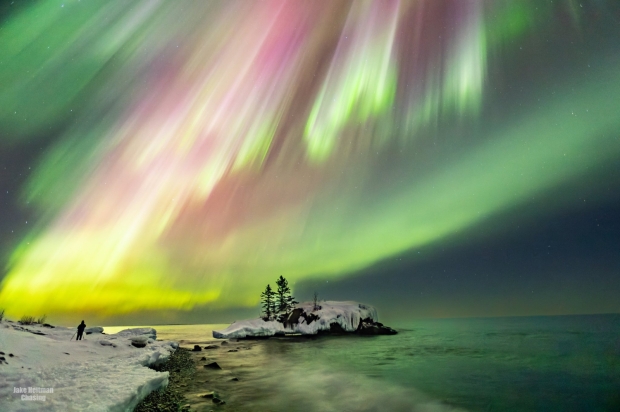 Furthermore, officials didn't detect this CME before it hit Earth, with the wave of charged particles from the Sun being described as a "stealth" CME. So, why didn't they see it coming? Space weather forecasters explain that CMEs can come in different variations, and these fainter but no less powerful blasts can be difficult to observe. For example, some of the more dense objects on the Sun may obscure viewing of these CMEs, while others may travel at a much slower speed than what is usual, slipping under the radar of forecasters.
"These nearly invisible storms launch much more slowly than eruptive CMEs and are very difficult to observe leaving the sun's surface without specialized training," said U.S. space weather forecaster Tamitha Skov to Space.com.