ChatGPT can be put to a lot of uses, as we've seen - such as its recent introduction to gaming chat platform Discord - and the latest one is the AI being recruited to help consumers build a PC over at major US retailer Newegg.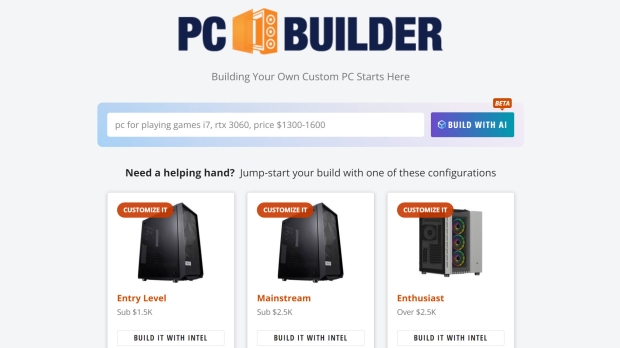 In fact, Newegg is putting the AI's skills to use for a raft of things across the retailer's site, but primarily to beef up the PC Builder tool, which is now labeled as 'Build with AI' - and a clear caveat that this is still a beta experience.
As you might expect, if you want to put together a PC, ChatGPT will help provide recommendations for various components that will go together well, or fit a certain budget.
You can make a broad inquiry, such as a gaming PC with an Intel processor and AMD GPU, for example, within a certain budget, and ChatGPT will hop to it and help. (Indeed, perhaps it should be renamed ChatGPU, as we're often prone to mistyping the name as that anyway, given the number of times we mention GPUs in our daily writing life).
This does feel like an early beta - which it is, to be fair - given that in our first test query for the AI to build a gaming rig, we were told that it "couldn't make a build based on [our] prompt," but that our input would "help improve this tool that's currently in beta."
Ahh well, never mind. We can all be a bit out to sea in our first day at a new job, let's face it.
Newegg is also employing ChatGPT to hone its text content across the site, including product titles and descriptions, and the retailer also explains that the AI will be used to drive better SEO and discovery through search engines.
Furthermore, ChatGPT will be used for customer service on the site, as this will be beneficial in implementing a chatbot system that more "accurately replicates human understanding and interaction."
The idea is that ChatGPT can handle a larger amount of customer queries than previous chatbots, which "helps customer service representatives save time by focusing on complex customer issues," we're told.
And this isn't about replacing human customer support reps, as Newegg further notes:
"We deployed ChatGPT to improve content both on-site and off-site to help customers find what they want and elevate their experience. AI doesn't replace employees, but it adds resources so employees are available to handle more complex projects. We're still in the early phases of AI but the benefits for e-commerce may be substantial."
In other ChatGPT-related news, we've just heard more about last week's big outage caused by a bug, specifically that some of the leaked details involved user's credit card info and other personal data.