WhatsApp user who wants to make sure that they stay fully up to speed on the latest goings on and new features? You could soon be getting all of that information right inside WhatsApp.
The Meta-owned instant messaging service has started to roll out its own group chat that will allow people to get information about WhatsApp including new features and more.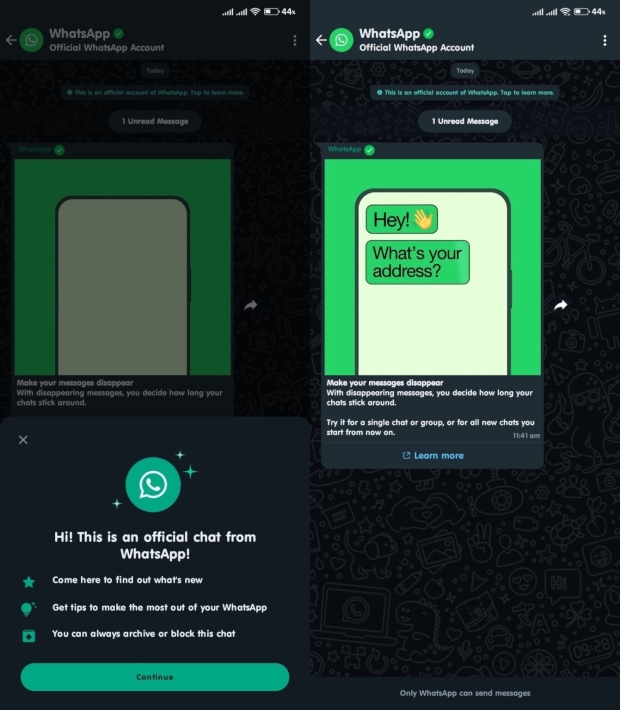 This feature has been in the works for a little while according to the folks at WABetaInfo, but some people have now started to see the chat appearing in their list of messages for the first time. Unfortunately, there doesn't currently appear to be any way to manually enter that chat, so it's a waiting game we're afraid.
At the time of writing it seems that the people who are receiving the chat from WhatsApp are being chosen at random, but you can make sure that you're using the latest version of the app to help improve your chances of being one of the first to take the new chat for a spin.
It isn't immediately clear what WhatsApp intends to use the chat for, but the first message that was sent to it was about disappearing messages and how to use them. The WhatsApp account has a green checkmark beside it as well, so you can be absolutely sure that it's as legitimate as can be.
We don't know when WhatsApp will make this available to everyone, or what the mechanism will be for those who want to join in. But it's clear that WhatsApp wants a more direct relationship with its users and this chat will likely be a key part of that.