CD Projekt RED and NVIDIA announced a new path-tracing powered visual mode for Cyberpunk 2077 called RT: Overdrive during last year's big GeForce RTX 40 Series reveal. With tech like NVIDIA RTX Direct Illumination (RTXDI) for all in-game objects ranging from neon lights to car headlights and full-resolution reflections, it was initially showcased alongside NVIDIA's new DLSS 3 rendering with Frame Generation.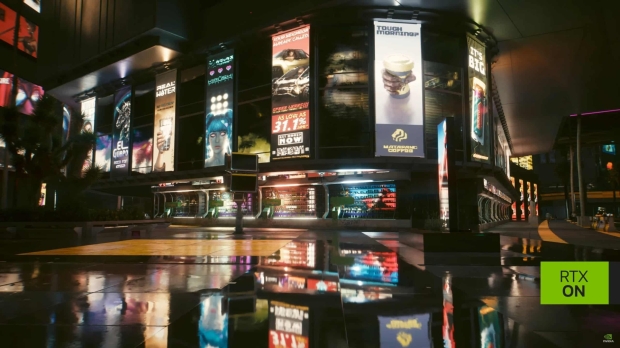 With DLSS 3 now an option in the game, we've got word via the GDC 2023 presentation "Cyberpunk 2077' RT: Overdrive - Bringing Path Tracing into the Night City (Presented by NVIDIA)" that the new RT: Overdrive mode is set to arrive in Night City as part of Update 1.62 coming on April 11.
No doubt the mode, like the fully path-traced Portal with RTX, will be super demanding on even the most powerful GPUs - including the GeForce RTX 4090. Odds are DLSS 3 will be required for a playable frame rate above 60fps at both 1440p and 4K, though it will be interesting to see if the mode is togglable on non-GeForce RTX 40 Series GPUs. NVIDIA's Portal with RTX remaster has no restrictions on what hardware you need, even though it is limited to the top end of the GPU spectrum.
Path tracing in a game like Cyberpunk 2077 is an incredible feat, as it's still one of the most technically impressive and demanding games on PC.
NVIDIA has also launched an RTX Path Tracing SDK for all developers leveraging RTX technologies and innovations like Shader execution reordering (SER) and real-time monitoring tools for improved performance. It's not something that's only for a mode like RT: Overdrive, as path tracing is so accurate and realistic that it can be used as an invaluable development tool for creating traditional in-game lighting.
Here's NVIDIA on Cyberpunk 2077's RT: Overdrive mode.
CD Projekt RED's Cyberpunk 2077 is technically one of the most challenging games on the market thanks to its massive world scale and visual variety. Its neon-illuminated environments and vast Night City vistas are already pushing the envelope of what's currently possible in real-time graphics. RT: Overdrive mode aims to take it to the next level by bringing RTX Path Tracing into the mix.

We all are well too familiar with the limitations of the current real-time direct and indirect lighting algorithms. Things like non-shadow casting lights with non-physically based range, low-resolution indirect light multiplied by screen-space ambient occlusion, or screen-space reflections are still widely used. While delivering satisfying performance on lower-end hardware, they limit maximum image quality and reduce content creator flexibility.

RTX Path Tracing aims to minimize constraints put on the content creators by delivering pixel-perfect soft shadows and indirect light contribution in fully dynamic environments from all the lights - be it an analytical local light, emissive surface, skylight, you name it.