Microsoft has officially confirmed that its touted 150 million figure is a combination of Nintendo Switch platforms and NVIDIA's GeForce Now streaming service.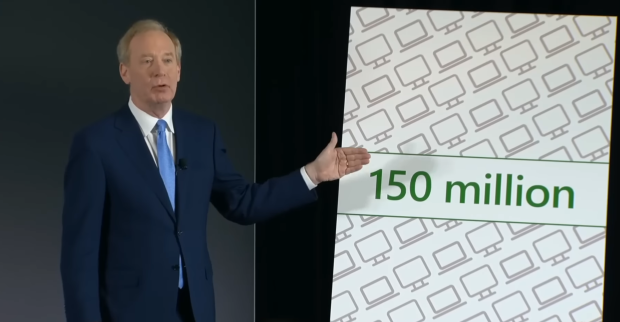 Microsoft has made a very compelling pro-merger argument to EU regulators. The company feels that its recent 10-year Call of Duty licensing deals with NVIDIA and Nintendo will promote competition by expanding the $31 billion franchise to platforms and services where it currently is not available. The argument seems like an ace up Microsoft's sleeve and has reportedly swayed European Commission regulators.
As part of a press conference held shortly after its meeting with the EC, Microsoft's Brad Smith introduced a figure that was hard to ignore. Smith asserted that Microsoft's deals with NVIDIA and Nintendo would allow 150 million more people to access Call of Duty. Microsoft even took out a full-page ad in the Financial Times that featured the massive figure.
Where did the number come from? We assumed it was the sum of the Switch platform (122.55 million) and GeForce Now (over 25 million members).
Now we know for sure. The number is indeed the combination of these two platforms.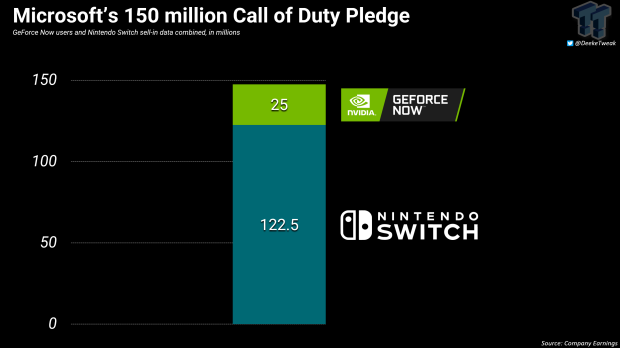 "And now, think about what we did today, between this morning and this evening. Between Nintendo and NVIDIA, we are bringing Call of Duty to 150 million more people, to 150 million devices that don't have access to Call of Duty today. That is a future where competition flourishes, where innovation moves forward," Smith said during the Microsoft press conference in Brussels, per an official transcript of the event.
The numbers indicate two things: Either Microsoft has more data on the Nintendo Switch that's been published by Nintendo, or that GeForce Now has around 27 million members. Remember that members does not equal subscribers, and that GeForce Now (GFN) has a free version too.
The press conference also clarified Microsoft's odd 80-20 pie chart was based on the FTC's new console market designation that removes Nintendo as a competitor altogether.
Microsoft has updated its official Activision merger website with more info on the press conference.