Before Bethesda delivered the fully-3D first-person Fallout 3, the Fallout franchise lived in the isometric cRPG space.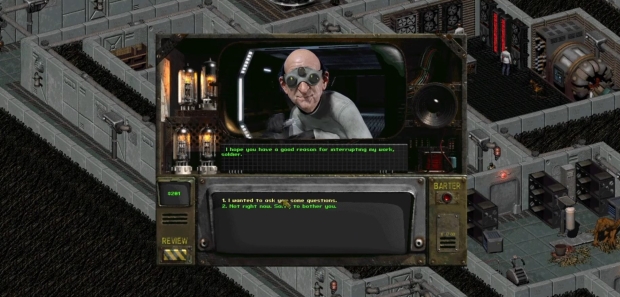 Developed by Black Isle Studios, Fallout 2 came out in 1998 for PC. The post-apocalyptic setting, deep RPG mechanics, and biting social satire made it a classic PC game that players repeatedly revisit.
This also means that the Fallout 2 mod community has been thriving for decades, and the latest from modder 'Black_Electric' called Talking Heads Actually Talk (THAT) Mod adds voiced dialog for over 40 NPCs in the game-a passion project born from volunteer work and a cast of professional and non-professional actors.
The result is well over 15000 voiced lines that also feature lip-syncing, and we love that the mod itself is given a name in that acronym Fallout-style.
Although it's still in the alpha stage of development, not all voices are in yet. But this is undoubtedly a treat for Fallout 2 fans. If you plan on downloading it and giving it a spin, it's worth noting that the mod works best with the Fallout 2 Restoration Project and Goat Boy's Talking Heads Mod.
You can see a demo of the mod in action below, and it's impressive stuff, even in this early stage. The quality of the voice-acting is impressive, too, and doesn't feel at all jarring, apart from the fact that this is Fallout 2 with voice-acting - something that was still a rarity for massive RPGs mack in the late 1990s.
The voices match the artwork and character designs, which is fantastic. The Talking Heads Actually Talk (THAT) Mod is available to download now via NexusMods. Be sure to bookmark the page as updates are rolling in at a steady clip.