Taiwanese computer company Acer has confirmed that it has experienced a massive data breach. However, its investigation into the hack indicates that customer data has not been stolen and is limited to things found on a server for repair technicians. The confirmation arrives after a hacker put up the data for auction on a popular hacker forum - claiming that 160GB of data had been stolen.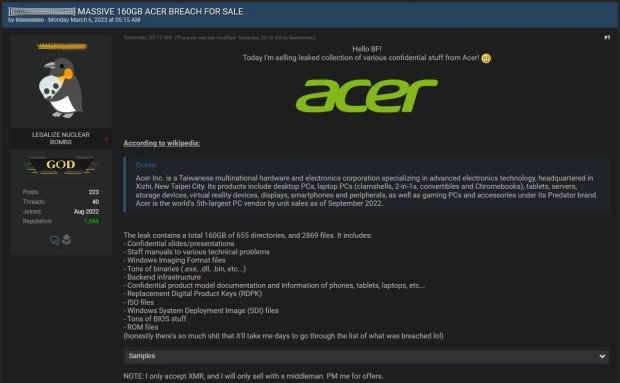 The hacker claims that the data includes "confidential" internal slides and presentations, staff documentation for technical support, Windows images, product information across various devices, "tons of BIOS stuff," and other files. The threat actor shared screenshots of schematics for an Acer display and other confidential documents to prove the data theft was real.
There isn't a price set other than the data will go to the highest bidder with the condition that payment is made via the hard-to-trace cryptocurrency Monero.
The data was stolen sometime in mid-February of this year. Acer provided a statement to BleepingComputer noting that the "unauthorized access" occurred on a document server for repair technicians.
"We have recently detected an incident of unauthorized access to one of our document servers for repair technicians. While our investigation is ongoing, there is currently no indication that any consumer data was stored on that server."

- Acer (via BleepingComputer)
This would explain the 160GB of Windows ISOs, binary files, and technical support documentation and back up the claim that no "consumer data" was stored on the server in question.
Per the hacker's forum post, the total breach includes 655 directories and 2,869 files, totaling 160GB.
Acer is one of the world's largest computer and hardware companies, and this data breach follows a recent ransomware attack in 2021 relating to the company's financial documents. And as we've seen in recent years, high-profile companies are being actively targeted by hackers.