Intel Graphics Driver 31.0.101.4146 is available now, offering Intel Arc Graphics support for Destiny 2: Lightfall and Wo Long: Fallen Dynasty. Two big PC game releases that have recently dropped, and in the case of Wo Long, Intel is noting that the Intel Arc A750 graphics card can outperform NVIDIA's GeForce RTX 3060 12GB at both 1080p and 1440p - via its benchmarks.

And we learn that Intel XeSS support (the company's DLSS AI upscaling equivalent) is coming soon to the game.
It's been impressive to see the release cadence for new Intel graphics drivers in recent weeks, especially with the company focused on fixing issues and compatibility for the Intel Arc range. Intel is living up to its promise of supporting new games - there's also Company of Heroes 3 and Like a Dragon: Ishin! support that was added recently. Intel writes, "you can always rely on Intel Arc graphics with Day-0 support."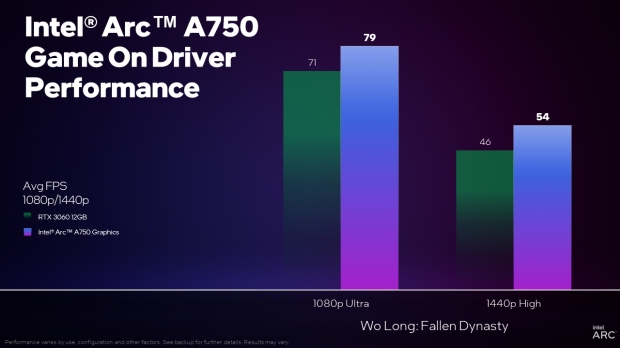 On top of this, there are also improvements for older titles. As mentioned in the headline, the latest driver reportedly brings significant gains to Halo Infinite when played on an Intel Arc GPU. Intel notes that players can expect a 40% increase in the game's overall performance. This is, understandably, huge and indicative of the poor Halo Intel Arc support up until now.
On the Intel Arc A750, Intel notes that the game can hit 120fps at 1080p Ultra settings or 91fps at 1440p Ultra. The new driver fixes visual corruption in Halo: Infinite and crashes in Red Dead Redemption 2 - another popular PC game.
This new driver update marks February's fourth release from the official Intel Arc A750 price drop to USD 249. Intel is looking to gain a foothold in the mainstream affordable GPU market.