UPDATE: The following article is based on a hypothetical scenario that MLex had reported on, however a separate 10-year deal was apparently never offered.
The following also includes my thoughts and opinions on what should happen if Microsoft made such an offer.
Original Article:
Reports indicate that Microsoft could offer 10-year licensing deals to competitors that includes all Activision Blizzard King games, however this deal would not significantly affect the games market unless the scope of the deal were adjusted.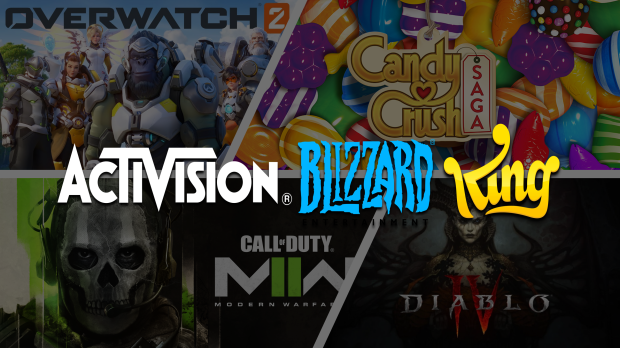 In a pre-emptive strike against regulatory scrutiny, Microsoft recently signed contracts to bring Call of Duty to Nintendo platforms and NVIDIA's GeForce Now game streaming service for the next 10 years. Microsoft has also committed to bring "all Xbox PC games" to GeForce Now as well. The opportunistic strategy aims to quell regulator's anti-competitive concerns about Call of Duty's potential exclusivity, and reports indicate that the plan has actually worked. The deals are expected to satisfy European regulators and the European Commission may approve the merger as a result.
Experts had previously speculated that Microsoft could offer similar 10-year deals for all Activision Blizzard King content for competitors like Sony, Nintendo, and NVIDIA, however a wide sweeping deal may not considerably affect the video games market with this limited scope due to the current structure of ABK's operations and the targeted platforms.
While an all-encompassing 10-year deal looks good on paper and could further satisfy regulators, the reality is that the overall scope of the deal would need to include other competitors, namely Valve's PC marketplace, in order to more dramatically affect the industry.
Most of Activision Blizzard King's biggest franchises are already widely available on multiple platforms where applicable (e.g. AB console games typically launch on all systems except for Call of Duty, which is not currently available on the Nintendo Switch). The limited scope of offering these titles to Sony and Nintendo may not make much difference, however offering these titles to Valve could further promote competition in the PC market.
To understand why such a deal may not widely affect the games market in its current scope, we need to take a quick look at ABK's current business and distribution models.
Activision-Blizzard operates across three segments that are both conjunctive and independent of one another. Activision-Blizzard games typically release on all platforms including PlayStation, Xbox, and PC via Battle.net.
We've seen Activision apply a broad scope of multi-platform releases to nearly all of its games except for a few select titles, which have been reserved to specific platforms due to maximal revenue generation.
Activision says that it makes most of its revenues from three franchises: Call of Duty, World of Warcraft, and Candy Crush.
Only one of these can be offered on competing console platforms due to the scope of the games. Call of Duty can be released on multiple platforms because it is a multi-platform game that's already released on consoles and PC. World of Warcraft, however, is only available on PC, and King's Candy Crush is only offered on mobile.
The other Activision-Blizzard franchises are typically already on multiple console platforms. For instance, Blizzard's own billion-dollar franchise Overwatch is available on all consoles including the Nintendo Switch, however it is not available on Steam. That will likely change on a post-merger basis. Other games like Diablo are likewise available on Nintendo platforms but are also unavailable on Steam.
The only way this sweeping 10-year deal would really change anything outside of the current market, and in addition to the 10-year deals made with Nintendo and NVIDIA, is if Microsoft were to promise to bring games like World of Warcraft and Overwatch (or titles only available on PC via Battle.net) to Valve's competing PC storefront Steam.
Since Valve has not identified anticompetitive effects on the PC market from the merger, and that Valve is pro-merger, it's likely that Microsoft will not be compelled to include Valve in its 10-year licensing deals for it full games lineup outside of Call of Duty.
Microsoft had independently offered a similar 10-year deal to bring Call of Duty to Steam, however Valve's Gabe Newell dismissed the contract and said it "wasn't necessary."
In short, such a wide-sweeping contract may not be offered because it is not deemed as necessary to secure regulatory approval.
Valve already has confidence in Microsoft, and Microsoft may not need to make extra commitments to Valve if Valve and/or other PC storefront operators have not raised anti-competitive concerns.
However, we'd like to stress that it is likely that AB games will appear on Steam as Microsoft's business model embraces multi-platform releases across all storefronts.
Prompted by Sony's assertions and complaints, regulators at the CMA are mostly focused on three aspects of the merger's effect on the video games industry: the console market, multi-game subscriptions, and/or cloud streaming.
The European Commission is reportedly concerned about PC game distribution, however their worries may have been satisfied by Microsoft's 10-year deals with Nintendo and NVIDIA.
The FTC did not classify PCs as part of the Relevant Markets that will be affected by the merger. However, the FTC's Complaint Counsel has subpoenaed Valve.
In short, Microsoft would need to adjust the scope of its 10-year ABK franchise offer to include Valve's Steam PC gaming storefront in order to provide added pro-competition value to any such deal.
It's possible that Microsoft could offer a similar deal to Valve in order to appease the FTC, however Valve is unlikely to sign such a deal due to the aforementioned reasons. It would still be good posturing for Microsoft to make such an offer.