The new high-end mobile Ryzen 9 7945HX with 16 Zen 4 cores has been tested in the latest ASUS ROG Zephyrus Duo 16 over at Notebook Check. Initial benchmarks showcase multi-core performance faster than Intel's flagship Core i9-13980HX (inside an MSI Titan GT77).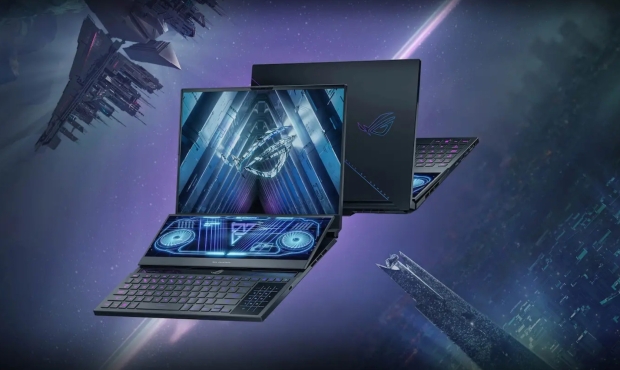 Although the 5% lead might seem slight, it's all the more impressive because the Ryzen 9 7945HX tops out at 120W compared to the 150W and higher for the Intel Core i9-13980HX.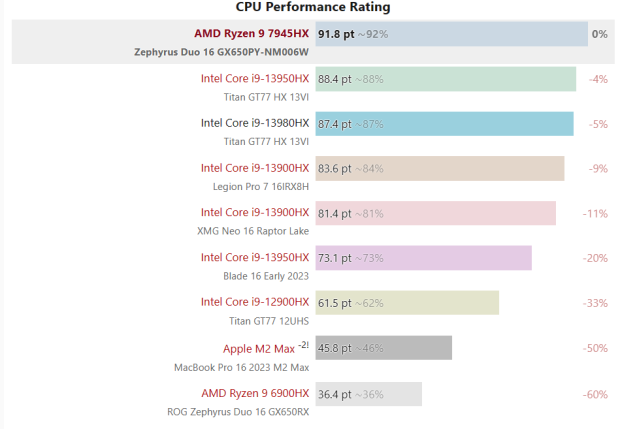 The tests included a range of popular CPU benchmarks, including the various versions of Cinebench, Blender, 7-Zip, and Geekbench. To get a more like-for-like comparison, the outlet limited the Intel CPU to 120W, and with that, the Cinebench R23 score was 22% higher on the AMD Ryzen 9 with the same power consumption.
The ASUS ROG Zephyrus Duo 16 tested also features an NVIDIA GeForce RTX 4090 laptop GPU, and Notebook Check also carried out some gaming benchmarks. The results across titles like Cyberpunk 2077 and Shadow of the Tomb Raider show that it's slower than the MSI Titan GT77 with an Intel Core i9-13980HX, but the results for the AMD Ryzen 9 7945HX are still impressive. Also, it's worth noting that the MSI laptop has faster DDR5-5600 memory than the DDR4-4800 memory inside the ROG Zephyrus Duo 16.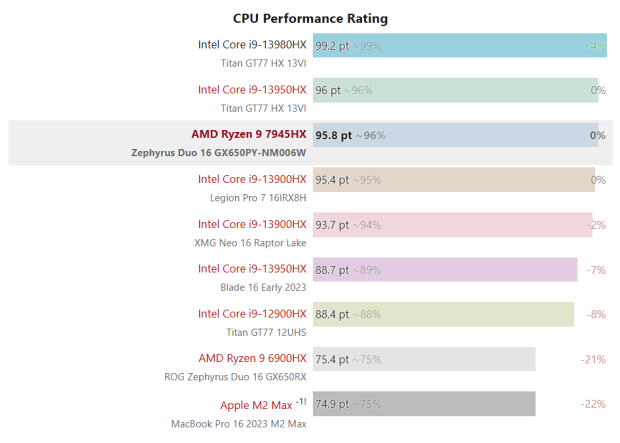 "The benchmark results above obviously do not give us a full picture yet, but the initial results are extremely positive," writes Notebook Check's Andreas Osthoff. "AMD [has] managed to close the gap in terms of single-core performance with lower power consumption. The new Zen 4 chip is even faster in multi-core benchmarks and still consumes considerably less power at just 120 Watts."
The mobile Ryzen range has made major strides in recent years, and even here, the new Ryzen 9 7945HX presents a sizable generational leap over the previous gen's Ryzen 9 6900HX.