The T-FORCE CARDEA Z540 M.2 PCIe 5.0 SSD might be a bit of a mouthful in how PC part product names tend to be, but it marks the debut of TEAMGROUP's foray into the brand-new PCIe 5.0 SSD space. It's a tech fully supported by new CPUs and motherboards.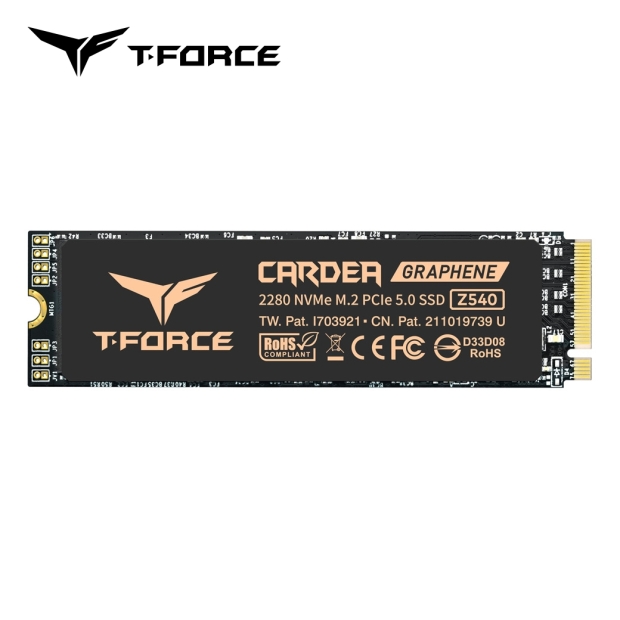 And as we've seen the first few PCIe 5.0 SSDs launch with chunky heatsinks and even tiny little fans for cooling, turns out read and write speeds of up to 12,000MB/s and 10,000MB/s generates a lot of heat, the T-FORCE CARDEA Z540 goes a different route. These rates represent a significant jump over the fastest PCIe 4.0 SSDs, which will no doubt make loading times a thing of the past.
Using an "exclusive ultra-thin graphene heat spreader" built on TEAMGROUP's custom tech, it is said to rapidly and evenly disperse heat for "top-notch" cooling of 3-5 degrees less than using only motherboard heatsinks. Outside of sounding like an excellent option for those not wanting an M.2 SSD with a chunky heatsink, we're happy to see TEAMGROUP using Aussie slang like "top-notch" to describe cooling. And it's ultra-thin, with a less than 1mm thickness.
One of the biggest concerns when it comes to PCIe 5.0 SSD is the heat. On that note, the T-FORCE CARDEA Z540 M.2 PCIe 5.0 SSD also features built-in temperature sensors and can automatically adjust performance to prevent overheating.
The first batch of T-FORCE CARDEA Z540 M.2 PCIe 5.0 SSDs will be available worldwide in Q2 2023, in 2TB capacities, with an MSRP of USD 499.99.