Reports indicate that influential games industry figures believe Microsoft could sell the Xbox games division if the Activision merger is blocked.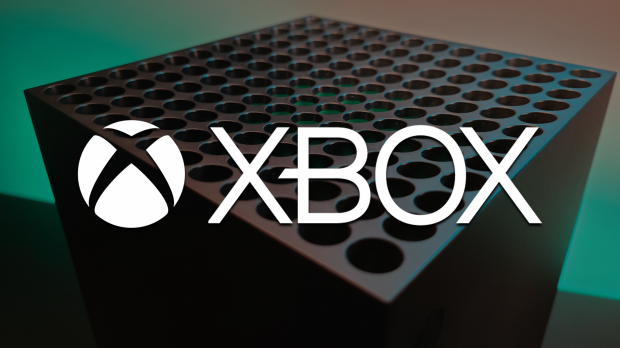 Microsoft wants to buy Activision Blizzard King for $68.7 billion. Shareholders and a large portion of gamers want the deal to go through. Regulators like the FTC, CMA, and European Commission are heavily scrutinizing the deal as it is believed that Activision's 8x separate billion-dollar franchises, including mega-hits like the $31 billion Call of Duty franchise and mobile giant Candy Crush, could help shape the future for the games industry.
What happens if the deal is blocked? As per current contracts, we know that Microsoft will have to pay Activision a $3 billion fee if the merger is not completed before June. It's likely that Microsoft and Activision will negotiate an extension if it looks like the FTC has a strong administrative case, but the consensus is that the FTC will withdraw the case and set out remedies and concessions to close the deal.
But what if that doesn't happen, and regulators like the FTC, CMA, and EC choose to block the deal? Microsoft will have to fight the FTC and European Commission, but the CMA's decision won't be easy to overturn. Based on everything we've seen, Microsoft is indeed willing to fight for the merger.
If all else fails and Microsoft is denied its merger proposal by regulators...then what? It's hard to say, but some industry figures reportedly believe Microsoft could make a drastic decision and sell the Xbox division.
Sources have apparently told Video Games Chronicle's Andy Robinson that they believe Microsoft could exit the gaming business and sell Xbox if the deal falls through.
Here's what the VGC chief said on Twitter:
"Regardless of Spencer's words, I know a lot of industry pundits think MS selling off Xbox is a genuine possibility should this be blocked (I still expect it to go through with concessions)

Capitalism has proven time and again that conventional logic really doesn't matter much if the graph doesn't point up enough.

I don't expect it to happen, but I can say with authority that some important people do.
Who are these important figures? No one knows for sure. Journalists don't reveal their sources for good reasons. It is likely that the group of "pundits" is a mixture of video games analysts and others who have higher-level knowledge of the industry. And again, Robinson isn't the source of the reports--he's just reporting what he's heard.
The argument is thought-provoking if not controversial.
Microsoft's own Phil Spencer has said that Xbox will eventually become "untenable" without more mobile content, and that the Activision-Blizzard merger would neatly solve Xbox's smaller presence on the mobile platform.
Would it make sense for Microsoft to sell Xbox? Everything that I've seen indicates that no, it wouldn't make sense.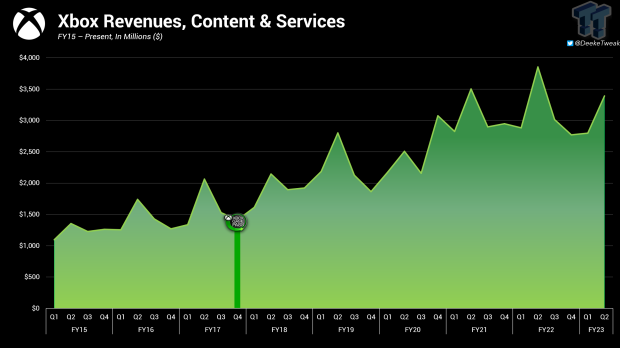 There's a lot we don't know about the business because Microsoft typically does not reveal key info about it. However, Microsoft has spent quite a bit of money establishing a rich, cross-platform ecosystem of games products and services, including a multi-game subscription that bridges consoles and PCs, and a powerful cloud streaming platform.
If Microsoft did sell Xbox, it could still help operate and maintain the infrastructure to whomever bought the platform, at least insofar as xCloud is concerned.
And who would make Xbox hardware? If Microsoft did sell Xbox, then it's highly likely the buyer would simply incorporate the IPs into its business and cut out hardware production entirely. Xbox could turn into another SEGA.
The reality is that we don't know for sure how well Xbox is doing because we don't have operating profit margins or any real data surrounding the division's profitability.
Xbox's Phil Spencer has also said that Xbox Game Pass is profitable, and that the Xbox business as a whole is profitable.
We also know that Xbox is firmly in second place among the Big 3, and the CMA has made determinations that the console sales differences between PlayStation and Xbox are smaller than the figures that MSFT and ATVI had provided.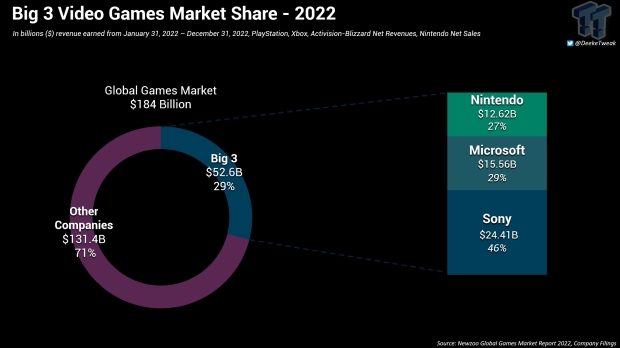 We do also have to wonder why Microsoft would pay $7.5 billion for ZeniMax if it planned to shut down shop a few years after acquiring the publisher.