Gamers have downloaded over 44 billion gigabytes from Steam -- that's enough for a handful of Warzone installs!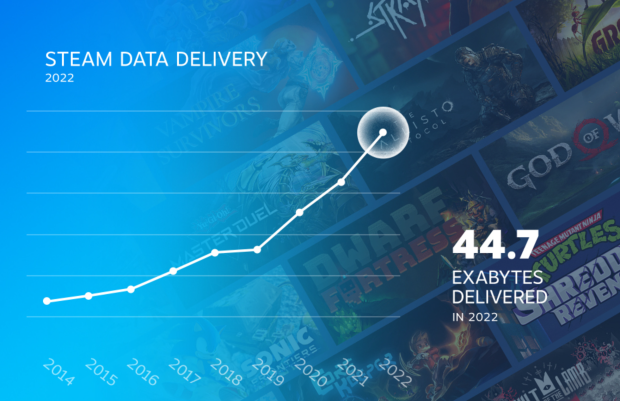 Valve's new Steam Year in Review 2022 stats show incredible growth for the platform. Steam grew to new heights throughout 2022, breaking previous concurrent user records last year (Valve just broke these again with an astronomical 33 million users online at once).
Tons of new users also showed up to Valve's storefront to buy games; The company says that an average 83,000 new users logged in to buy games every day of 2022. We can only imagine what Valve's revenue sheets look like.
Perhaps the most eye-opening stat that Valve shared is just how much data that Steam users go through. Valve says that gamers downloaded over 44.7 exabytes of data, which is 44.7 billion gigabytes. China used the most data with over 232 petabytes followed by the United States with 184.4 petabytes.
That's nearly a 40% boost from 2021 and data usage could be even higher in 2023 if Valve is able to keep its userbase buying and playing games.
Adding so many new users means constant maintenance of our global content delivery network. Our total content delivery increased 36% from 2021, for a total of 44.7 exabytes downloaded to players. And just how much is 44.7 exabytes? About as much data as if every one of the 8 billion people on planet Earth downloaded a 5.5 gigabyte game.
In other Valve news, the Steam Deck just celebrated its first birthday. The innovative system combines the versatility and wide selection of Steam's PC gaming availability with the portable form factor of a handheld.
Valve teases there is "much more to come" regarding the Steam Deck, and has repeatedly said it wants to make new iterations of the handheld PC.