Microsoft Edge has long been testing an integrated VPN feature, and this functionality has now debuted with the browser.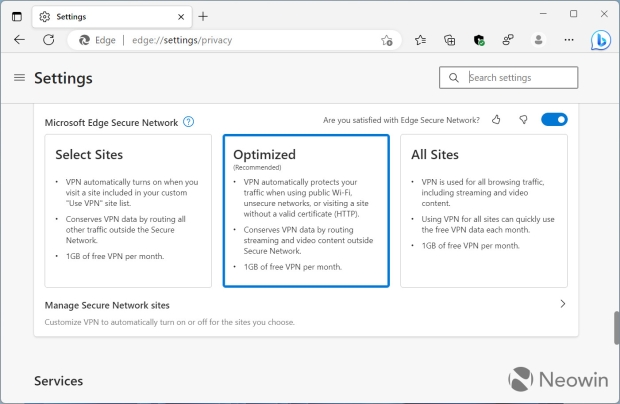 The VPN, which will be bundled free with the browser and is known as 'Edge Secure Network', is now working in the release version of Edge according to reports from some users, as flagged up by Neowin.
The VPN was previously only accessible to Edge testers, but now the 'preview' label has been discarded, so it would seem to be the case that this is the start of the rollout of the built-in VPN, and presumably it will be coming to a wider audience in the near future.
There are catches with this service, as you might expect if you've had any experience of free VPNs in the past - most things are never truly 'free,' and you can expect limitations compared to a paid service.
With the Edge VPN, there's a restriction on the amount of data you can use: 1GB of bandwidth per month. That's not a bad allocation of data to cover some basic browsing needs, but other freebie services offer much more (or even unlimited data in one case: Proton VPN, but that really is an outlier).
The other notable caveat is that you can't choose a VPN server; instead, Edge automatically allocates you one when using its secure connection. Meaning that if you need to use a server in a specific country to, for example, circumvent geoblocking, then you're out of luck.
Still, this is a handy extra to have in the Edge browser, and Microsoft plans to offer the ability to pay for more data if you run up against the 1GB limit, and like its VPN. It is nicely streamlined and user-friendly, as you can see from the screenshot of the settings panel above, so beginners won't have any problems using the service and won't have to worry about anything remotely technical - it's all done for them. That, of course, is one of the main attractions here, and the no-effort aspect of the VPN just being right there in the browser already.
VPNs are designed to help protect your privacy online and hide your true IP address, providing a virtual one instead, as well as encrypting the data you send and receive. They can also be used to access streaming services that you wouldn't be able to use otherwise, but as mentioned in this case, because you can't pick a server in the appropriate country, the Edge VPN isn't any help on this front.