Razer has released its latest high-end mechanical keyboard in the form of the Razer BlackWidow V4 Pro, which it describes as "a full blown battlestation" for gamers. Of course, that could read like marketing speak to drum up interest in a clicky-clack bit of gear, but the Razer BlackWidow V4 has several impressive features. This is good because it retails for USD 229.99 and AUD 399.95.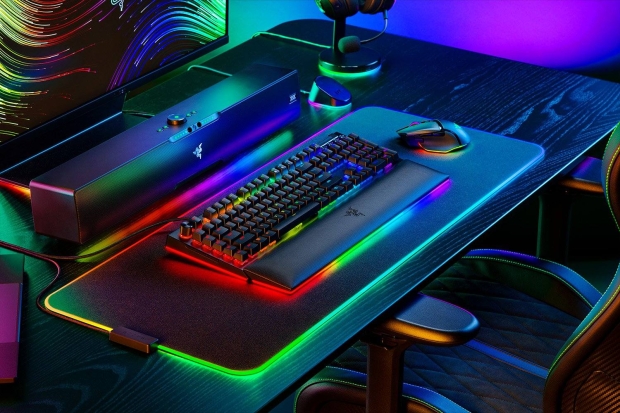 As per the headline, it's introducing something called the 'Command Dial,' which sits in the top left corner of the keyboard, and it's a context-sensitive dial with 8 default modes and countless more custom ones where you can map and change what the clockwise and counter-clockwise action ends up doing. For content creators and editors, it can be a jog wheel or simply a way to scroll through sites and docs. The cool thing is that each mode can toggle with a click that changes the Command Dial's corresponding backlight.
The other significant feature of the new BlackWidow is the addition of five dedicated macro keys that can be pre-programmed or programmed on-the-fly. There are also three additional macro keys on the edge of the keyboard bringing the total to eight. In terms of hardware, the keyboard features the latest generation of Razer's mechanical switches with either Green Clicky or Yellow Linear, rated for up to 100 million keystrokes.
And then there's the Razer Chroma RGB, with per-key lighting that Razer amplifies thanks to "transparent switch housing" and an additional 38-zone underglow. USB 2.0 passthrough is also here, with a detachable wrist rest, an aluminum alloy top case, and an up to 8000 Hz polling rate.
It sounds like a beast, so stay tuned for our full review.
ABOUT THE BLACKWIDOW V4 PRO

Razer Mechanical Switches (Linear/Clicky)

Razer Chroma RGB

Razer Synapse enabled

5052 Aluminum Alloy Top Case

Doubleshot ABS Keycaps

Razer Command Dial

5 dedicated macros keys

3 dedicated macro side keys

Dedicated media roller with 4 dedicated media buttons

USB 2.0 Passthrough

Detachable Type-C Cables

Case foam & PCB foam included

Lubricated stabilizers

Magnetic plush leatherette wrist rest

2-side underglow on main chassis with 3-side underglow on wrist-rest

Hybrid on-board storage for up to 5 profiles

Up to 8,000 Hz polling rate