SpaceX has recently conducted a pivotal test on its journey to creating the transportation necessary to get humans to the surface of Mars.
SpaceX took to its social media channels to share footage of Booster 7's static fire test that was held at the company's Starbase facility in South Texas. The objective of the first stage static fire test was to gather data on the 33 Raptor engines that were intended to be fired. Unfortunately, only 31 of the Raptor 2 engines ignited, but overall the test seemed like a success as 31 Raptor 2 engines provided more than enough power to get Starship to orbit.
For those that don't know, SpaceX's Starship launch vehicle has been in development for many years now, but now development is reaching a critical point as the rocket is almost ready for its first orbital flight test. This static fire test of 31 Raptor 2 engines has tested the Ground Support Equipment (GSE), which has never felt the pressure of 31 Raptor engines firing at the same time. Additionally, SpaceX engineers will gather valuable information on Booster 7's health after the firing, which will be used to make not only Booster 7 more efficient but also future vehicles that will come after it.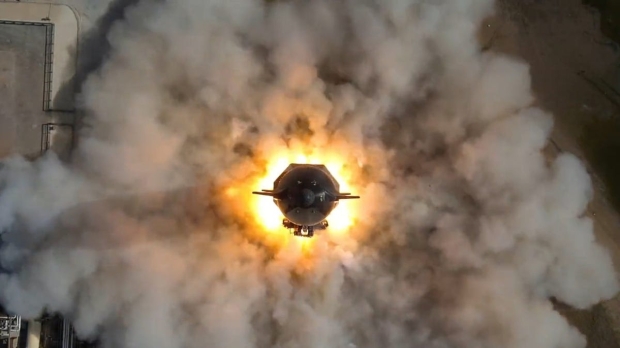 If SpaceX manages to get Starship to orbit in its first flight test, the company will have unlocked a viable method of transportation to Mars, enabling the human race to become a multi-planetary species. SpaceX CEO Elon Musk took to his personal Twitter account to write that "one day, Starship will take us to Mars". In response to that tweet, an individual asked Musk when he imagines human existence will walk on the surface of the red planet.
Musk answered and admitted to being "congenitally optimistic," considering he's at the head of the company developing the revolutionary technology to make the trip possible. However, the SpaceX CEO said that without his congenital optimism, both SpaceX and Tesla wouldn't exist. As for an updated timeline, Musk said that it's possible for human existence to be present on Mars in five years. Additionally, Musk said that it's highly likely that we will be there in 10 years.
So, when will Starship take its next big step toward Mars? It's possible that SpaceX will conduct its highly anticipated orbital attempt as early as next month. However, that would depend on the results from its most recent test and if the health of the rocket is sufficient enough for the test to be carried out. Leading up to the orbital test, SpaceX will announce a date, so keep your eyes out for that.