We recently looked in-depth at the search trends for GPUs in 2022 courtesy of Raul Bilc at Razzem, where we learned that NVIDIA dominated Google searches, with nearly 80% of all searches being for GeForce-related products. Today comes a new report, this time looking at CPUs, and as per the headline, AMD dominates the results, with over 60% of all search queries in 2022 being for Ryzen CPUs. AMD Ryzen Threadripper, Intel Xenon, and Intel X-series CPUs were excluded, with the results focused on the consumer market.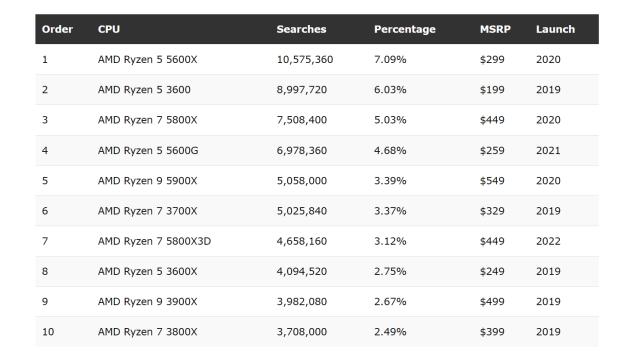 The top results are all Ryzen, with the AMD Ryzen 5 5600X being the most popular CPU searched for alongside the AMD Ryzen 5 3600, Ryzen 7 5800X, and even the Ryzen 5800X3D making the top 10 list. With the Ryzen 7000 series making its debut last year, it's interesting that the only entries in the top 50 are for the AMD Ryzen 9 7950X and the Ryzen 5 7600X.
It's easy to understand why the AMD Ryzen 5 5600X made the top of the list, and it's affordability and performance make it a great option for new builds or upgrades. Plus, it comes with packed with a cooler.
If Google search trends indicate popularity and those looking to make a CPU purchase, it's not great news for Intel, with their CPUs garnering only 38%. What's perhaps most interesting about this outcome is that this data that CPUs no older than 2019 were included in the results, and with that, the list contains 118 from Intel and only 33 from AMD.
The most popular CPU search for team Blue is the Intel I9 12900K, coming in at number 16. There is some good news for Intel, though, as the results show more searches for its new flagship 13th gen Intel Core i9 13900K versus the AMD Ryzen 9 7950X - 1.16% (1,730,280 searches) versus 0.97% (1,445,880 searches).