Scientists are sharing a new level of both excitement and confusion at the vortex that just formed near the north pole of the sun.
Space weather forecaster Tamitha Skov took to Twitter to share video footage captured by NASA's Solar Dynamics Observatory, which showcases a large filament of solar plasma snapping off of the sun's surface and forming a vortex that moved towards the sun's north pole. According to Skov, there are large implications for this event as it could unlock a deeper understanding of the sun's atmospheric dynamics close to its poles, a region that currently isn't very well understood.
Other scientists, such as Scott McIntosh, a solar physicist and deputy director at the National Centre for Atmospheric Research in Boulder, Colorado, spoke to space.com and said that he has never seen a vortex quite like this and that research suggests that this event occurs once every 11 years. Notably, the vortex happened at the sun's exact 55-degree latitudes, and while scientists know that it happens once every 11 years, they don't know why it happens or the driving force behind it.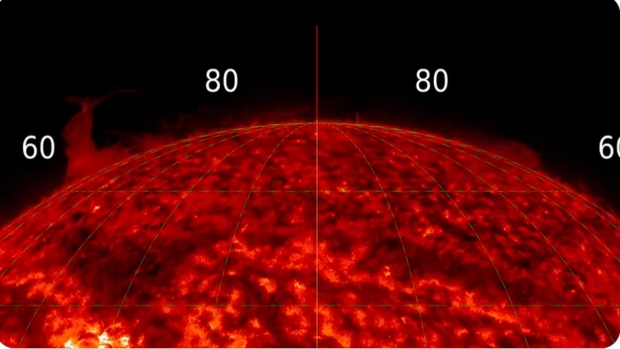 Researchers know that the sun's poles are a pivotal component to the generation of the sun's magnetic field, but since the sun can only be viewed from an elliptical plane, which is the plane the planets orbit around the sun, scientists are unable to directly observe the sun's poles, making them difficult to gather information on.
In other space news, a team of international astronomers has identified an exoplanet called Wolf 1069. According to reports, this planet is only 31 light-years away from Earth and is a very similar size to our planet, being 1.26 the mass of Earth and 1.08 its size. The astronomers have indicated that this exoplanet would be viable target to search for extraterrestrial life as its a rocky planet that tidal locked to its star, meaning that one side of the planet is always day time and the other side is always night time.
For more information about the discovery of Wolf 1069, or more information on general space news check out the link below.