Researchers have performed an analysis on Saturn's smallest moon Mimas and found evidence that the small moon may actually have an internal ocean.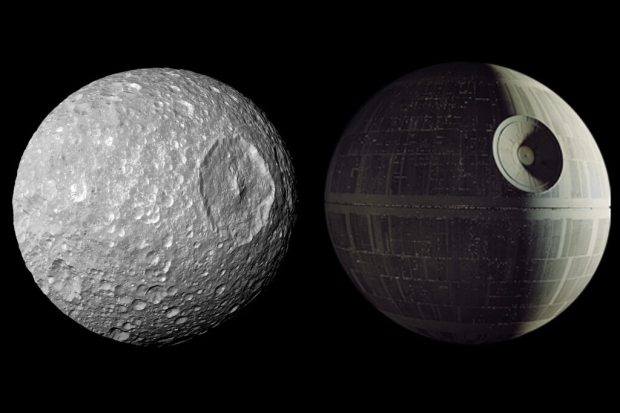 Mimas is Saturn's smallest and inner-most moon, and according to researchers that published a recent paper in the Geophysical Research Letters journal, NASA's Cassini Mission to Saturn identified an oscillation in Mimas' rotation, which is typically an indicator for that body being geologically active body and able to support an internal ocean. Notably, researchers first believed that Mimas wouldn't be a likely candidate for an internal ocean as its icy surface is peppered with craters and featured one giant crater that makes the moon resemble the iconic Death Star from Star Wars.
This large crater on Mimas was the focal point of the study and is called the Herschel impact basin. Scientists modeled the formation of the Hershel impact basin using simulation software called iSALE-2D. The results indicated that Mimas' crust had to be 34 miles thick when the Hershel impact occurred. Notably, recent observations of Mimas indicate that the crust is approximately 19 miles thick, leading researchers to believe that Mimas has been warming and expanding since the Hershel impact.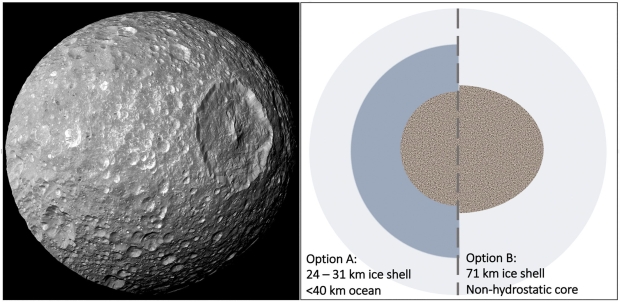 The researchers behind the study explained that if Mimas has an ocean today, the ice shell has been thinning since the Herschel impact basin formed and could also explain the lack of overall fractures across the moon. Furthermore, the researchers said that if Mimas is proven to be an emerging ocean world, it will give astronomers more information about the evolution, formation, and habitability of all mid-sized moons orbiting Saturn.
The scientists note that their study does have limitations, such as the unknown of Mimas' thermal-orbital evolution. This gap in information means it's difficult for the researchers to develop a clear understanding of the moon's orbital and geological characteristics.
In other space news, a mysterious flying spiral was caught on video hovering above Hawaii. The video was released by the observatory located at the highest peak in Hawaii and showcased a spiral emerging and eventually disappearing. The footage left scientists at the observatory at the time of the event in shock. If you are interested in reading more about that story, check out the below link.