A group of scientists have devised a novel way to produce skin in almost any 3D shape, which could then be transplanted as "biological clothing".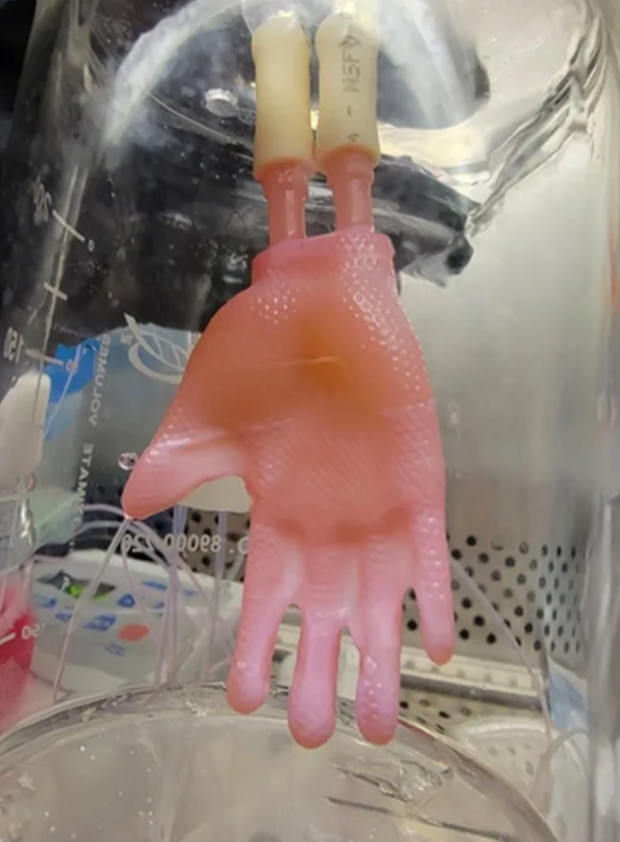 The team of researchers from Columbia University published a new study in the journal Science Advances that through their method, they are able to create three-dimensional skin constructs from ears to elbows to entire hands that can then be transplanted as 'biological clothing' to individuals that have suffered from burns those affected regions. This method involves a 3D laser scanning the site on the body that needs a skin graft.
A digital profile is then created of the scanned area, which is then tinkered with in a CAD program. After the touch-ups are complete, the 3D render is then printed. The above skin glove is entirely covered in skin fibroblasts and collagen, along with keratinocytes, which is the most common type of skin cell that makes up the structural component of the epidermis, the outermost layer of the skin on the human body. This layer of skin is responsible for repelling your body from harm, keeping your skin hydrated, and producing new skin cells.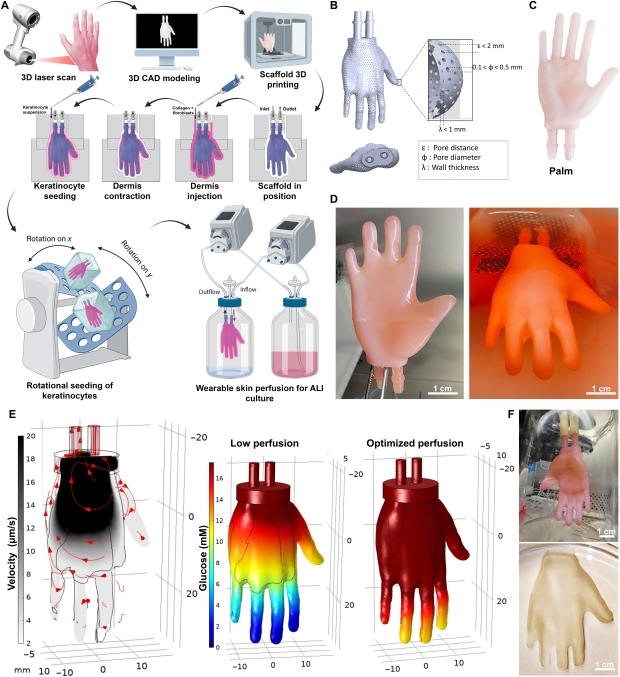 "Three-dimensional skin constructs that can be transplanted as 'biological clothing' would have many advantages. They would dramatically minimize the need for suturing, reduce the length of surgeries, and improve aesthetic outcomes," Dr. Hasan Erbil Abaci, lead researcher and assistant professor of dermatology at Columbia University, said in a recent press release.
The skin glove also features a growth medium that will fuel cell growth. Essentially, the skin glove will act as the scaffolding that the wearer's skin cells will grow upon. Notably, the entire process, from the scanning of the afflicted site on the individual's body to the generation of the skin cells to them being ready for the transplant, takes about three weeks. However, the surgery itself only takes about 10 minutes, according to the researchers behind the study that tested the technology on mice.
It should be noted that human trials for this method of skin grafting haven't begun yet and that it's likely a multitude of studies will still need to be conducted before any human trials begin.
If you are interested in reading more recent science news, a "mysterious" spiral was caught on video hovering above Hawaii. The Subaru Telescope, which is positioned on the highest peak in Hawaii, released a video of the spiral emerging and then disappearing. The observatory also explained the likely cause of the spiral.