Cyberpunk 2077 was prominently showcased during NVIDIA's big GeForce RTX 40 Series reveal last year. The visually stunning game was shown taking advantage of cutting-edge DLSS 3 rendering alongside the reveal of an RT Overdrive mode that will push the already intensive real-time ray-tracing in the game even further.
Exclusive to GeForce RTX 40 Series GPUs (RTX 4090, RTX 4080, RTX 4070 Ti), DLSS 3 is a combination of DLSS Super Resolution, NVIDIA Reflex, and Frame Generation. The latter needs the new GeForce GPUs because it is an intensive AI process involving specific hardware that can generate new frames to boost performance. As per the video posted by NVIDIA above, we're talking about the sort of leap that has made DLSS 3 one of the most talked about bits of PC gaming tech in the past year.
"Playing Cyberpunk 2077 with the AI-powered performance of NVIDIA DLSS 3 is the best way to access the stunning visuals the game has to offer - this technology helps us take a new step toward combining unconstrained visual fidelity with exceptional performance."

Jakub Knapik, Global Art Director, CD PROJEKT RED.
There have been some criticisms around DLSS 3's funky way of dealing with UI elements and text. On that front, NVIDIA notes that the Cyberpunk 2077 implementation features notable improvements in these areas, which might be one of the reasons its release was delayed. Latency, another critical area, is improved over just using DLSS 2 - with the RTX 4090 and DLSS 3 resulting in 41ms versus the RTX 3090 Ti's and DLSS 2's 78ms. It also delivers over double the performance using less power.
As per NVIDIA's 1440p and 4K benchmarks, DLSS 3 sounds incredible when you see the massive leap in performance.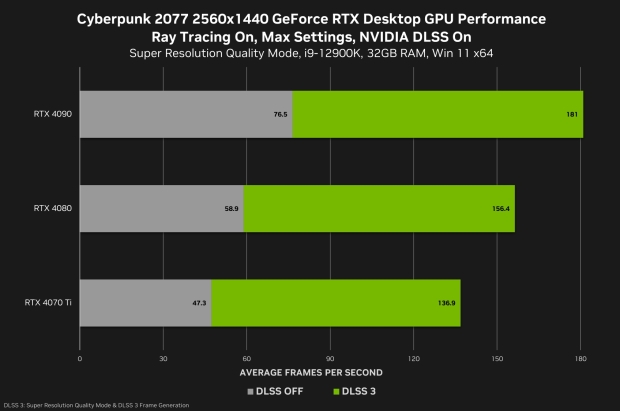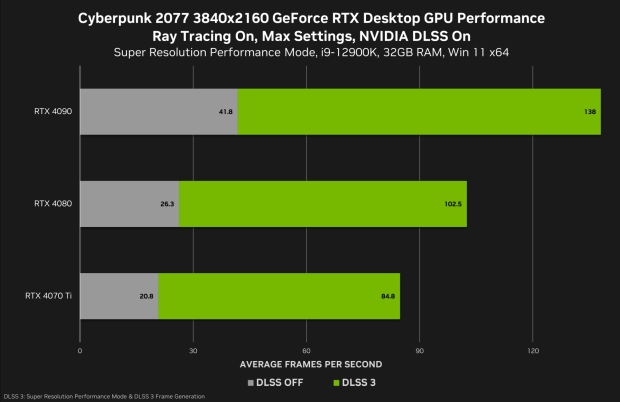 Having checked out the update, I can confirm that the results are mind-blowing with no perceivable loss in visual quality. Using a GeForce RTX 4080 running the benchmark in 4K with RT Ultra settings and no DLSS, the result was an average fps of 30. With DLSS Quality and Frame Generation, this increased to 80fps.
With DLSS 3 finally in Cyberpunk 2077, now we wait for the RT Overdrive update.