Californian carmaker Rezvani has unveiled the Rezvani Vengeance, and the Batmobile-like SUV comes with a military package that is truly shocking.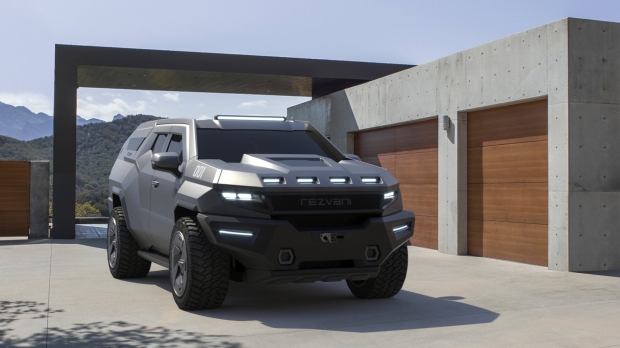 The Rezvani Vengeance is not your typical SUV as this vehicle is truly equipped for an apocalyptic event with the inclusion of bulletproof glass, blinding strobe lights, electrified door handles, smoke screen, thermal night vision, EMP protection, gas masks, and even a pepper spray dispenser. Looking at the Rezvani website, the company states that "vengeance is yours," and if you decide to get the military package, all of the aforementioned features are yours.
Notably, these features and the vehicle by itself don't come cheap. The Rezvani Vengeance base model, without the bells and pepper sprayers, comes in at $285,000. Those that decide the military package is a necessary upgrade will have to pay a whopping $499,000. It should be noted that tactical weaponry equipped to the Rezvani Vengeance isn't marketed towards the US military personnel but to everyday Americans.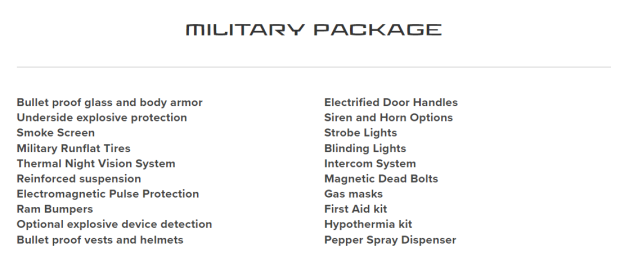 Furthermore, the Rezvani Vengeance comes with included body armor, a built-in safe, a RAM bumper with a built-in winch that is designed to work for any road situation, military-grade flat tires, deadbolt doors, electromagnetic pulse protection to stop electromagnetic pulses emitted by a nuclear explosion, a smoke screen that can be released while driving.
So, is this car legal? That is certainly up for debate, with some individuals criticizing the design and saying that a simple misfire of the vehicle's pepper sprayers while at school pick-up could result in several children being hit with pepper spray. Additionally, Eoin Higgins, a reporter, wrote on Twitter that they could accidentally leave the electrified door handles armed, which could lead to her children being zapped.
The Rezvani Vengeance is literally equipped with tactical weaponry making it the most dangerous vehicle you can (somehow) drive on the road. Lastly, the vehicle is simply built like a tank as well, sporting a thick underbody shielding that stops explosions and a powerful 6.2L V8 engine with the option of a 3.0L or a 6.2L supercharged turbo diesel.
If you are interested in reading more about the Rezvani Vengeance, check out this link here.