Square Enix's new interesting-looking fantasy IP Forspoken demands some serious PC horsepower.
Japanese games typically aren't very well optimized on PC, and that seems to be the case for a few Square Enix titles (remember NieR: Automata's issues?) Now it looks like the publisher's latest game Forspoken could be affected as well, which makes sense considering Luminous Productions titles are pretty intensive.
The devs just released Forspoken's PC spec requirements and they're pretty hefty. The game will require at minimum an NVIDIA GeForce GTX 1060 with 6GB of VRAM, an AMD Ryzen 5 1600 CPU, and 16GB of RAM to deliver...720p at 30FPS. That's rough performance but the spec-perf ratio reflects how the PC gaming world is moving on.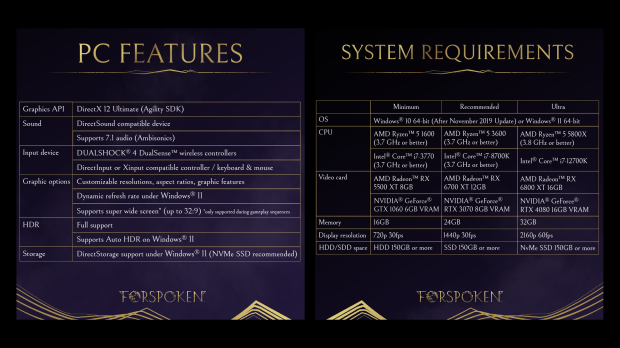 Read Also: Forspoken loads in just 1 second on PC with DirectStorage
Recommended specs are much more stringent. Forspoken developers want PC gamers to have an AMD Ryzen 5 3600 CPU or an Intel Core i7-8700K CPU alongside an AMD Radeon RX 6700XT or an NVIDIA GeForce RTX 3070 GPU and a whopping 24GB of RAM to deliver just 1440p 30FPS. That isn't a great perf target either for that kind of hardware. This also implies you might be recommended to have this setup to hit 1080p 60FPS.
And if you want to hit ultra preset with 4K 60FPS you'll need the top-tier AMD Radeon RX 6800 XT or an NVIDIA GeForce RTX 4080 GPU, an AMD Ryzen 6 5800X or an Intel Core i7-12700K, and a whopping 32GB of RAM.
So what gives? Why are the requirements so high? It's hard to say without analysis, but remember that Forspoken is the first PC game to utilize Microsoft's new DirectStorage API technology, so it could have something to do with the steep GPU requirements.
The game will also support AMD's FidelityFX super resolution technology to help stabilize and supercharge performance.