A team of researchers has examined a meteorite that crashed into a family's driveway only a few years ago and found that it contains organic matter.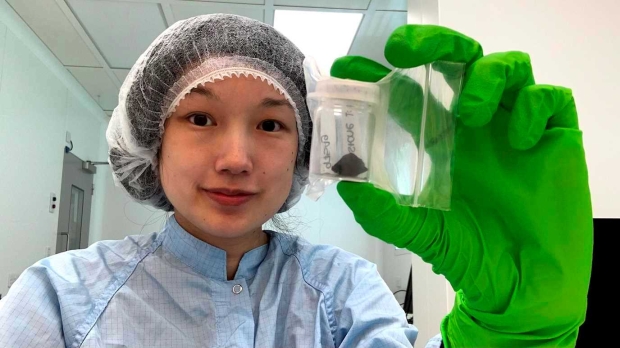 A new study published in the journal Science Advances details the discovery of organic matter that contains a selection of the building blocks of life or the molecules/compounds required for carbon-based life to exist. Scientists examined the composition of the meteorite and found traces of soluble protein amino acids that they believe formed much earlier in the meteorite's life. Researchers explain that the organic matter likely formed when the meteorite was attached to its much larger parent asteroid that harbored liquid water.
It should be noted that this isn't the very first-time researchers have discovered organic matter inside of a space rock that has fallen to Earth, but considering the results from the examination and the way the meteorite was discovered (in a driveway), this particular meteorite has entered into the "rare" category, according to study lead author Queenie Chan, a planetary scientist at the University of London. Chan explains that the Winchcombe meteorite "belongs to a rare type of carbonaceous meteorite which typically contains a rich inventory of organic compounds and water".
The study mentions that when Winchcombe fell, it was spotted by hundreds of witnesses, making the recovery process fast and easy. The meteorite was recovered just 12 hours after its first appearance, meaning that it didn't suffer from any "terrestrial contamination" that would influence any scientific testing. Furthermore, the study states that Winchcombe is the "least terrestrially modified" asteroid of its type.

The lack of terrestrial contamination has led researchers to state that they were able to study the organic signature that is truly essential to the meteorite, garnering much more accurate results.
Why is this all important? Studying meteorites such as Winchcombe gives researchers a window into our solar system's past and Earth's. Additionally, a group of scientists believes that the discovery of amino acids inside asteroids could mean that asteroids initially brought life to Earth. The researchers suspect that essential life ingredients such as water were transported to our planet's surface through devastating asteroid collisions.
This theory has led to researchers proposing that the very same process of life emerging on Earth through asteroid intervention could have easily occurred in other regions of the universe.
In other space news, NASA's James Webb Space Telescope has confirmed its very first exoplanet that is reasonably close to Earth. The massive deep space observatory has peered into the atmosphere of the planet and measured its diameter finding similarities to Earth.